Swim Regionals Make for an Impressive End to the Year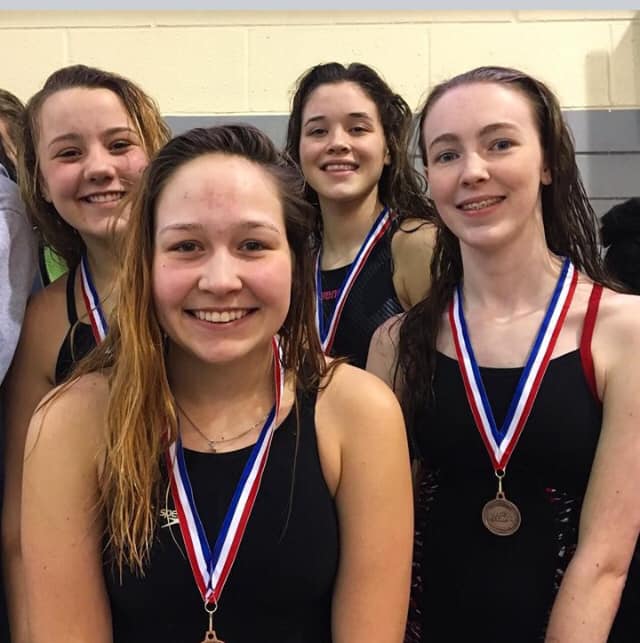 As Dory famously said, "Just keep swimming."
The GRC swim team embodied this motto at their regional competition on Feb. 9 at the University of Kentucky, giving it their all to end the season with a bang. 
Twenty-two members of GRC's swim team competed at regionals, including senior Mackenzie Crowl. 
Crowl ended the season at Regionals by placing 11th in the 200 medley relay, 9th in the 200 IM, 13th in the 500 freestyle, and 6th in the 200 freestyle relay. This competition was the last of her high school career. 
"I'm sad to be done with high school swim, but I'm also glad to be moving on to the next stage," said Crowl, who will be swimming for Transylvania University next year. "I have been on the team for seven years. The team is what I will miss most."
Through his rankings at Regionals, senior Chris Stefanski represented GRC at the state competition on Feb. 22. 
Stefanski's work with his GRC teammates inspired him to work harder in his preparation for State. 
"Working with the team this season taught me how to train to be a champion," said Stefanski. "Seeing the team really grow and try their hardest everyday just makes me want to train more and more like a champion."
Stefanski competed in two categories at State, placing 21st in the 50 yard freestyle and 20th in the 100 yard freestyle.
"I am very satisfied with how I swam at State," said Stefanski. "It was a good swim meet to end on for my final meet of my high school career."
For junior Bekah Miles, this swim season was her first. 
"Being on the swim team for the first time as a Junior felt like standing in the middle of the crowd that everyone else knows where they're going, but you don't." said Miles. "But Coach White and my teammates made it feel as if I could do anything that they could. We push each other to go faster and do better than we ever thought we could." 
Miles looks forward to her Senior year and using it to become a better swimmer. 
"I'm looking forward to improving my techniques, my times, and maybe even improving on a stroke I struggle with," said Miles. "I'm also looking forward to greeting those that are joining the team and making them feel as welcome as I did this season."