Pep Band Makes GRC Proud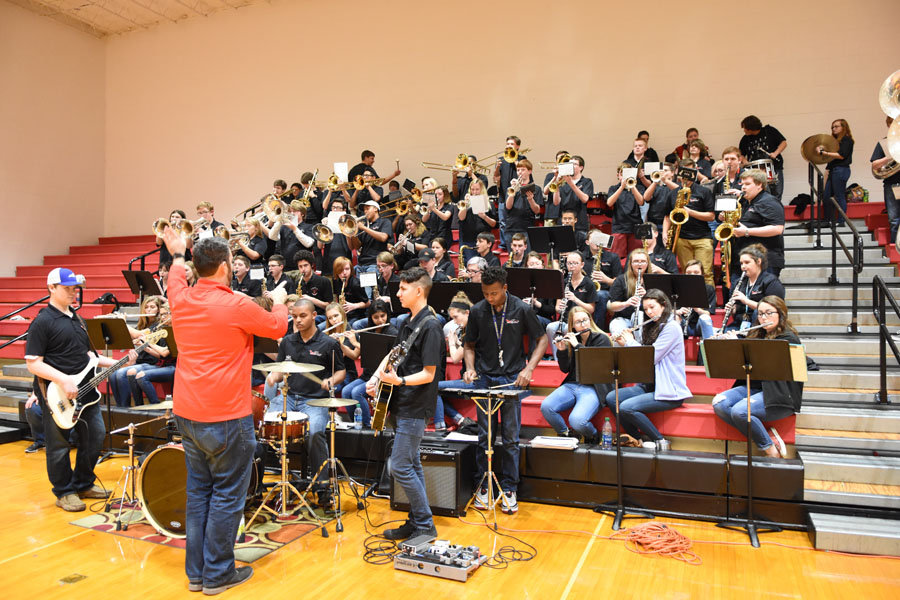 Its time to put a little pep in your step! Of all the bands at GRC- Marching, Concert, Jazz, and symphonic, the only one to record its own album is pep band.
The pep band consists of freshmen, sophomores, juniors, and seniors, all doing their part to hype up the crowd and the players at every game.
The students involved in pep band have really shown that they mean business when it comes to supporting GRC.
Every time you go to a football or basketball game, whether it is home, district, regions or state, the pep band is always there.
"The band certainly adds to the atmosphere," Band Director Mr. Payne says.
With a variety of songs for a variety of crucial game moments, the band fills everyone with excitement.
"School bands are what make high school and college games feel different then professional games," said Mr. Payne.
The popular Fight Song and Go Big Red are just two of the songs that everyone loves for the band to play at a game.
The band played and recorded these two songs, along with 13 others, and put them on a playlist for everyone to enjoy.
"We get asked all the time to provide recordings of the National Anthem and the Fight Song," Payne said. "The week of the state tournament we made a new recording of the fight song, and we thought it sounded pretty good. It was then a spur-of-the-moment decision to just record everything else."
You can find this 15-song playlist on the band's website at grcband.org. The band recorded the entire album during one class period, "in one take," Payne said.
It is the first-ever playlist to be done by the band in GRC history.
Payne said the band looks forward to playing the first games at the new football field and new gymnasium.
"We are excited for the new gym, which will be right next to the band room," he said. "We'll be able to pull out some of our electronics, synthesizers, sound effects – stuff that is just too big to transport every week to Campbell."