There's no pause for this Kama
Celebrating our new Vice President elect, Kamala Harris
Let's travel back about one hundred years to the early 1900s.  America has just entered the 20th century.  There was no indoor plumbing, no phones or cars, and women were still fighting for their right to vote. Sounds crazy, right?
Flash forward to today, and we have elected our first female Vice President. 
Our country has come so far in women's rights. The infamous Ruth Bader Ginsburg once said that there would be enough women on the United States Supreme Court when there were nine, so we still have quite a long way to go in our journey to equality. 
Nonetheless, women around the country are celebrating the momentous occasion of our first woman, African American and South Asian VP elect — Kamala Harris.
Born in 1964, young Kamala grew up during the peak of the civil rights movement. Inspired by her mother Shyamala, an Indian American immigrant, activist, and breast cancer researcher, she set out to get her undergraduate degree at Howard University, and her law degree at University of California Hastings. 
She climbed her way from the Alameda County District Attorney's office to become California's First woman Attorney General. After that, she made her way to the United States Senate. 
She is most known for her sharp and brutal questioning in Senate hearings. Her debate with Vice President Mike Pence will be one we will never forget, and not because of the fly on Pence's head. She isn't afraid to speak her mind, and let others know that she is a force to be reckoned with.  Now that's what I call a boss lady.
Before Joe Biden chose Harris as his running mate, they were thought of as somewhat rivals during the Democratic Primary. But after dropping out of the race, she did endorse the former Vice President.
When Biden was projected to win the presidency, I burst into tears. Because Kamala, one of my biggest inspirations, set a new precedent for our nation. She gives us hope for a brighter future for women in government. 
Too often, I have to face the challenge of sexist remarks and ridicule. Women are believed by some to be too weak or too emotional to get things done. And now that Kamala has been elected, it shows me that being a female doesn't define what I can or cannot do. I can hold a powerful position, and be taken seriously. Take that, misogyny!
Whether or not you are happy about the election results, this feat should make all women in the United States proud. We have broken barriers and are paving the way for women of the future. The future truly is female. We have finally made it to the Vice Presidency. Next stop: POTUS.
About the Writer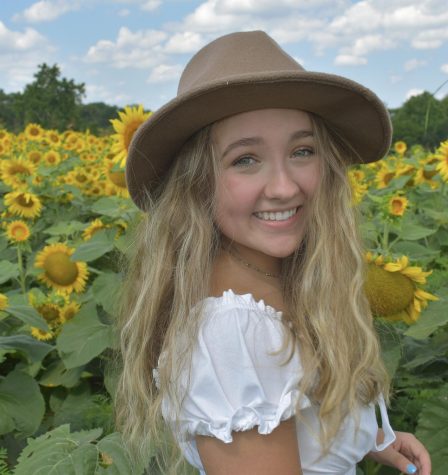 Ella Cooper, Multimedia staff
Ella, also known as Cooper Trouper, is a junior at GRC. Her favorite sound is a perfectly balanced 8 part harmony and she says the best part of waking...