Freshman Helps Lead Young Track Team This Season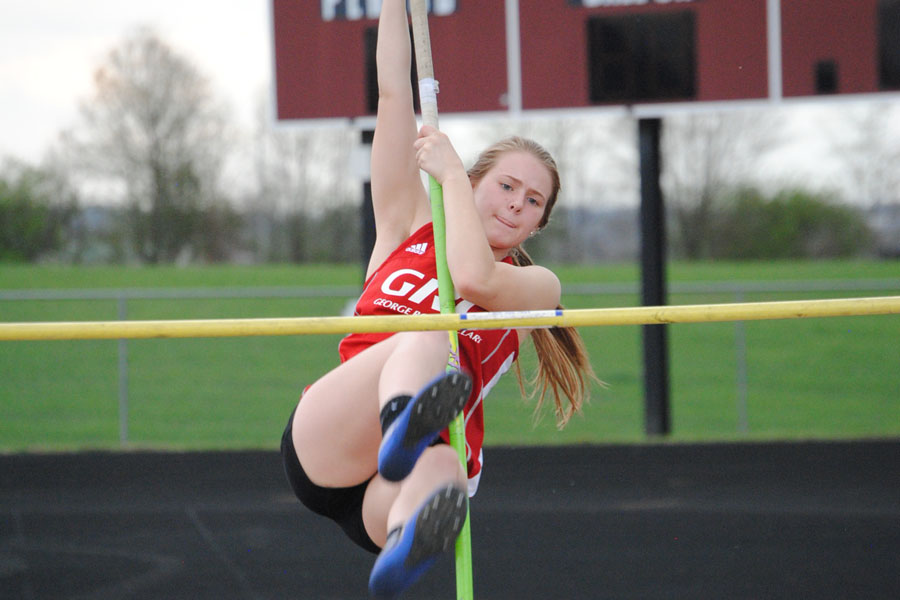 Skylar Carmichael loves the rain. As one of the freshman leaders on GRC's young track team, she shines when the weather would delay or cancel some spring sports.
"Some of my best moments are when it's raining," says Carmichael. "For some reason I always perform better."
Carmichael is having a stellar season for the Cards, particularly in pole vaulting.
"I got into pole vaulting by my coach telling me I should at least try it because I had just quit gymnastics after nine years," says Carmichael.
Pole vault is a difficult event to participate in and do correctly. With the new athletic facilities coming, GRC will be able to have its own area for pole vaulting but as of now the team must practice the best it can.
"I practice in Madison County either at Madison Central or my coach's barn where he has equipment to allow us to vault," says Carmichael.
Carmichael finished 2nd in the pole vault during the Bath County Invitational April 11. She helped the team win its second straight Mayor's Cup championship at Montgomery County recently by winning the pole vault event.
Carmichael and her team have two more meets before traveling to regionals on May 13.
Track isn't only about the individual athletes who compete.
Kirsten Ratliff, a senior and one of the captains, says, "Everyone is out there trying to improve themselves and help one another out as teammates and friends. I love my teammates; they are my best friends. We train together, laugh together, and feel pain together."