Every second counts: senior Logan Dawson wins Ultimate Raider Nationals
In the end there can only be one winner of a competition.
GRC senior Logan Dawson not only was battalion commander of the GRC Long Knives that won the All-Service Raider Nationals, but he won the individual national Ultimate Raider competition as well.
"It meant a lot to me," Logan said. "I didn't know I was going to win until they called it because it was so close at the end."
The individual race is little under a mile and three quarters and it's with a 35-pound rucksack. The run starts on a road, and heads off into the woods. There is a low crawl followed by climbing over an eight foot wall. The race is over when your feet hit the ground after getting over the wall.
Logan competed against 86 people from all over the nation and finished the race with an impressive time of 10:32, less than a second ahead of the second-place finisher.
"The guy who finished second was a couple of heats after me and I was sitting up there with my stopwatch timing it," Dawson said. "He was going through the low crawl and I was sweating. It was two guys; they were less than a half second apart."
Logan's team is very important and inspires him to be better.
"It's all about the team," he says. "I mean, it's not, not so much as me wanting to get better just so I can win everything, but it's the whole team. We push each other, motivate each other. You're only as fast as your slowest team member because everything there is a team event. So, you know, I can't be better unless the team is better. So I push them and in turn, they push me"
Logan's older brother, Hunter Dawson, is an alumni of GRC's JROTC program, and was also Battalion Commander. He was the main reason why he joined the program.
"Going to his Raider competitions and watching him do all that stuff really interested me in it," Logan said.
Logan plans on joining the National Guard, and then go to college and join the ROTC program there. He hopes to be commissioned as an officer in the Army.
Becoming a national champion is something that very few people get to experience. Logan worked hard and got to experience that feeling.
"I kind of like zoned out when they first announced my name," he said. "I didn't really know what was going on.I  just kinda ran up there at the award ceremony and got my trophy. But then as we got back to the camp, it kind of hit me like – Oh wow, I'm first in the nation. This is pretty cool." 
Leave a Comment
About the Contributor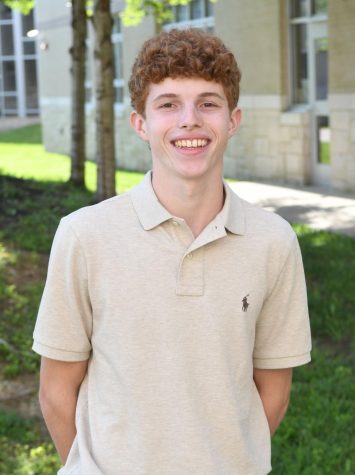 Hayden Cecil, Entertainment Editor
Hayden likes Puerta Grande, because the food is exactly the same, but the vibes are better. He would live in "Ratatouille", since he loves to eat and...