Pohl is KHSAA Region 6 high jump champion, Class 3A state runner-up
Julia Pohl, a 2021 GRC graduate, jumped a personal best 5'7″ on her way to a KHSAA Class 3A Region 6 championship. She went on to earn second place in the Class 3A KHSAA State Track Meet at the University of Kentucky.
Julia tied the best-ever GRC season finish in the high jump and tied for the best GRC high jump performance at a state meet.
Julia is headed to Northern Kentucky University on a track and field scholarship.
"It was such an amazing feeling to compete at state this year since our entire outdoor season was canceled last year," she said. "With the building of GRC's brand new track and addition of proper equipment, I was able to enhance my performance to the next level, even after having to take a year off."
Julia cleared 5'6″ for her region title and 5'6″ at the state meet, resulting in a tie-breaking second place finish. The state winner also jumped 5'6" but had less miss attempts.
"If I wasn't going to win state, a tie breaker is how I'd want to go out," Julia said.
Julia also placed at the state meet in two other events. She long jumped 17.0.5 for 4th place, and reached 35-2.75 in triple jump for an 8th place finish.
GRC's Jonathon Reitral also qualified for state and finished 18th in the 300-meter hurdles.
In addition to winning the region high jump title, Julia was 3rd in long jump and 3rd in triple jump. Other GRC Track & Field athletes placing at the Region 6 meet were: Laura Ross, 18th, 800-meter run, 16th, 1,600-meter run; Maria Jackson, 6th, 1,600-meter run, 9th, 3,200-meter run; Joey Hill, 12th, 100-meter dash; Elias Webb, 21st, 100-meter dash, 20th, 200-meter dash; Josh Wilson, 5th, 400-meter dash; Lukas Parido, 17th, 400-meter dash; Liam Parido, 8th, 800-meter run, 9th, 3,200-meter run; Logan Dawson, 11th, 800-meter run, 6th, 1,600-meter run; Dallas Hall, 15th, 1,600-meter run; Corbin Ison, 7th, 110-meter hurdles, 9th, 300-meter hurdles; Jonathon Reitral, 5th, 300-meter hurdles; Joey Hill, 7th, long jump; Josh Wilson, 8th, long jump; Austin Raney, 8th, triple jump; Billy Morris, 6th, pole vault; Cole Warner, 5th, discus, 4th, shot put; Blake Embry, 13th, discus; and Lamont Kennedy, 16th, shot put.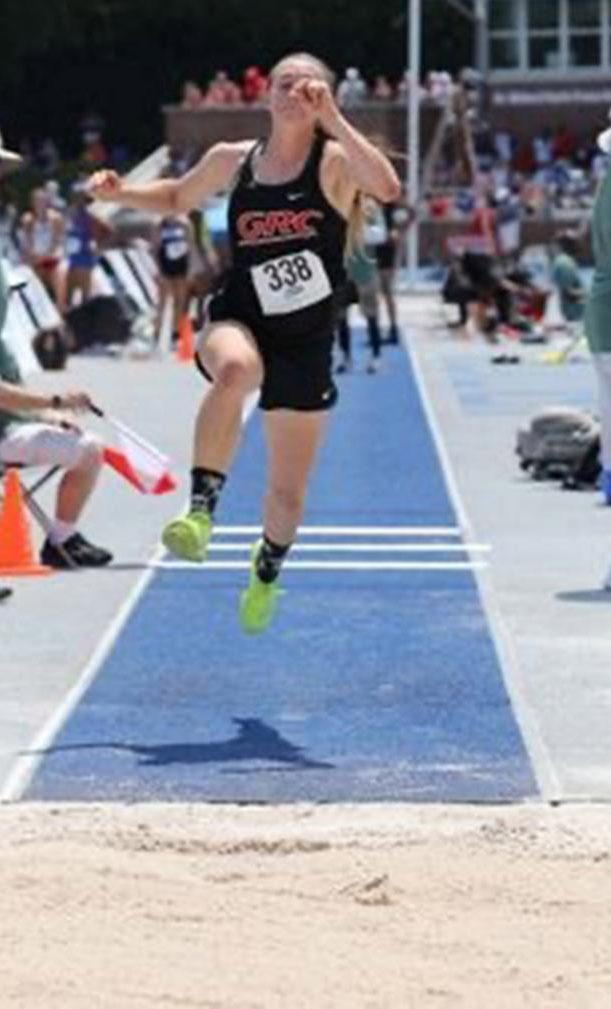 Leave a Comment