Cards open season of high hopes tonight at Campbell County
The season of expectations, the season of high hopes, the season everyone has been waiting for since the Cards' incredible 20-21 run ended in the Elite 8 of the KHSAA Sweet Sixteen State Tournament.
After all the achievements from last year's 20-5 team,  Coach Cook's crew is ready to begin what they hope to be another championship winning year.
The Cards had a memorable Elite 8 performance last season, and are eager to get back to Rupp Arena for the third straight year. 
"We want to continue to push our principles of putting the team first and playing with a championship mindset," says head boys basketball coach Josh Cook. "Last year we had a fantastic run, but my boys weren't satisfied. We want to make it further, but we first have to believe we can do it. We have to ignore the noise and never get too high or too low. We have to stay focused on the prize at hand."
The Cards bring back an abundance of talent, including leading scorer Jerone Morton. A 6'4 guard, he has been a key contributor to the Card's success for the past three years and will for sure be a hard player to stop this year.
He averaged 22.6 points per game and 6.2 rebounds per game last season and has clearly shown an unlimited amount of potential leading to several looks by D-1 colleges.
"Coming into the season a goal for myself is to keep my head on right and play my hardest every single game," says Morton. "My team and I want to stay level headed and not worry about all the noise this year. Getting to state and winning it is our top priority and we are going to do whatever it takes to achieve that goal."
Alongside Morton returns Aden Slone, a 5'9 senior point guard, who averaged 11.8 ppg and 3.6 rpg. Slone showed incredible leadership skills last season as he controlled the tempo of the game with poise. He is what is known as a "true point guard" and is someone you need on your team. Slone recently committed to Delta State University to further his academic and athletic career. 
Another name returning for the Cards is junior Trent Edwards, who averaged 9.7 ppg, with 6.3 rpg last season. Edwards is a 6'7 junior wing with length and speed that can beat you in the paint and on the perimeter. He's a versatile weapon that the Cards will utilize a lot this year. 
"Our team is strong and talented," says coach Cook. "Our guys are still learning. We have the speed and scoring advantage, but have to get better on the defensive end. When our guys all buy into their roles and our championship mindset that is when success will come."
In addition to Morton, Slone, and Edwards, the Cards return great depth. Senior wing Sammy Hernandez will provide lock-down defense, sophomore guard Reshaun Hampton will be a key contributor, and senior forward Stanley Smothers will bring a strong presence in the paint.
Over the summer GRC picked up three new transfers in Tanner Walton, Tyleik Maxwell, and Sam Parrish.
Walton, a 6'3 senior, averaged 20.1 ppg, with 6.3 rpg at LCA. Walton is a high caliber player who shows great stride and movement on the court.
"My mindset this year is to put the team first," says Walton. "I know if we want to play in Rupp at the end of the year and win it all, the team needs to come first. Since we are an older group of players, mainly juniors and seniors, our maturity will show. The past couple of seasons we've made it to state, but couldn't win it. I think that will motivate everyone to worry about winning a championship rather than individual stats."                                                  
Parrish, a 5'10 junior, averaged 16.9 ppg, with 4.2 rpg, last season with Tates Creek. Parish has the speed, athleticism, and pure talent to contribute a lot for the Cards this year. 
"Coming into the season my mindset is the same as everyone else's – do whatever it takes to win," says Parrish. "We want to work hard this season and stay humble. I think that's all everyone thinks about is playing in Rupp Arena; that's the goal this season."
Maxwell, a 6-foot junior guard two-sport athlete in football and basketball, has proven his athleticism is something special. He will be a great addition to the Cards roster and will provide much more depth to the Cards bench this year.
The Cards have a preseason rank of #5 in the state according to the Herald Leader and #4 according to the Courier Journal. They clinched the preseason #1 spot in the 10th Region, but have a long season ahead.
The road kicks off tonight at Campbell County, who is one of the top returning teams in the 10th. 
"Our schedule is loaded with tough games this year," says Cook. "It's important to continuously push our guys together through all the adversity this year. This season will be a challenge, but in the end will be worth it. At the end of the day all my players are talented and if they truly want to win it all, they will."
Leave a Comment
About the Contributor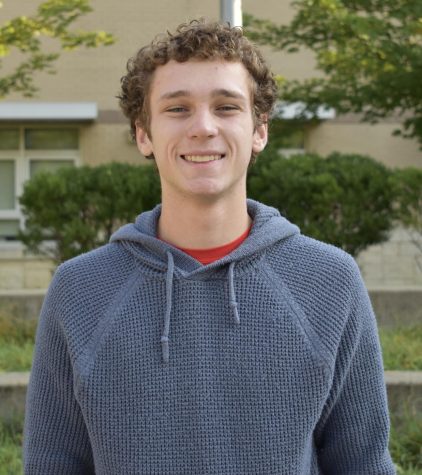 Sawyer Broeking, Sports Editor
Sawyer's biggest fear is not having someone to talk to. He thinks Whales are better than Goldfish because they are a unique combination between cheddar...