Riley Williams: More than a weightlifter
One-hundred and eight kilogram barbells aren't the only things Riley Williams has to carry. 
The junior is known to be an impressive and successful weightlifter, but she has many other talents, and a busy schedule.
She's a swimmer, a tennis player, a scholar with seven weighted classes, and balances three jobs. "I like being busy," Williams says. "I think it brings more to life. I get to be involved in things that make me happy and be with people who make me happy. It's enriching."
With two gold medals, six silver, five bronze, three state records, and an international silver and bronze, it's safe to say Williams has talent in her main sport – weightlifting. 
Team USA Olympic Weightlifting has opened a lot of doors for Williams, and she seizes the opportunities it provides for her, knowing her future can be bright with them.
"It's made me realize that I can put anything I can set my mind to," she says. "I plan to attend one of the military service academies. Weightlifting has given me the mental strength, physical strength, and confidence to do so."
Swimming isn't new for her, finding it riveting since her first year on the team as a 7th grader, now being the swim team captain.  "Competitive swimming gives me an opportunity to get really aggressive in races, and it's a lot of fun," she says. 
Tennis is a relatively new sport for Williams, but she doesn't find it any less thrilling, always up for the challenge.
"Tennis has given me something fun to do, that also allows me to be fit," Williams says. "I love the team aspect, since it was something I've never experienced before. I love learning about the sport, and I wouldn't trade the 'high-school experience' for anything. It's a good physically and mentally challenging sport, and I think everyone should try it."
As expected, these activities can cause a lot of stress, and she has to be able to have a balance in her life. "I always run into obstacles, like everyone. Some are bigger than others. It's important for me to persevere and keep moving, so I can be a better person with a better life," Williams admits. 
With all this stress, it's important to find some things that give one a sense of relief and relaxation.
"All of my hobbies are an emotional outlet for me," Williams says. "My schedule can get very overwhelming, so it's good to go home and wind down."
Some of her hobbies include guitar, bass, scrapbooking, journaling, and reading. Outside of her hobbies, to destress, Riley confirms she goes on long drives and then visits Sonic for an ocean water and some pretzel twists.
There are also hardships everyone has to deal with, no matter what activities they're involved with. "I've had my fair share of hard times," Williams says. "I look to God, and seek shelter from Him. I also have some pretty good friends that make it a little easier."
When asked about inspirations in her life, Williams was quick to answer. "My grandpa is my biggest inspiration. He's the kindest soul I know, and I look up to him for every aspect of life. I want to be like him."
So many athletes who are good at their sport are only recognized for their athletic achievements. It's important to remember that they're all more than just their sport, and have lives outside of it.
Williams is a good example of this, having so many things she has to balance in her life outside of just lifting weights.
"I always get called the 'weightlifting girl' by strangers," she says. "I get a lot of judgement and stigma. It's always entertaining, but I'm a lot more than that."
Leave a Comment
About the Contributor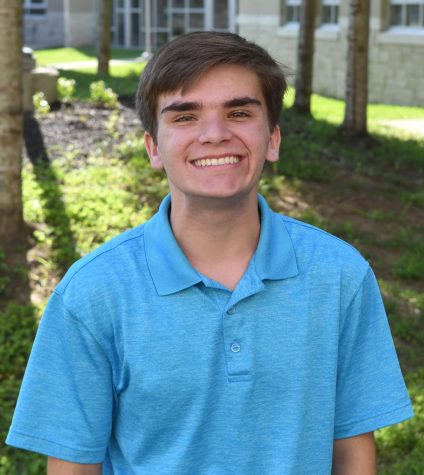 Daniel Graves, Managing Editor
Daniel likes Don Señor because all his friends love it, and they always go there. He would live in "Doctor Strange in the Multiverse of Madness", only because Wanda Maximoff is her best self in it....