Football is back at GRC Stadium as the Cards face the Camels tonight
Fresh off their first win of the season over Martin County, the Cardinals strive to climb their way back to the top. 
"The game was tough," says freshman safety and wideout Kamden McAlpin. "But I think we showed everyone we are ready to get back to the Cardinal way of winning. We're ready to do it on the home stage. I think we've built the momentum we needed to move forward this season and turn the year around."
The Cards improved to 2-3, the first win due to a Covid forfeit, after last Friday's game. The defense held strong, only allowing the Martin County Cardinals to score 13 points and didn't allow the big plays to happen, which ultimately led them to their win.
The GRC offense exploded, scoring four touchdowns, three rushing, and one receiving. Freshman Kalen Washington scored his fourth and fifth touchdown of the year, along with McAlpin and senior Carter Lowe getting into the endzone for the first time this year.
"I feel great coming into this week's game," says Washington. "My brothers and I are ready to fight together and get another win. We've been working hard in the mornings and afternoons grinding to be the team we know we can be. Come Friday my mind will be focused on what I need to do in order to execute my role on that field for my brothers."
Campbell County comes into Cardinal territory Friday with a record of 1-4. After winning their season opener against Newport Central Cathlic, the Camels have struggled to perform as well as they hoped. The Camels are desperate to find anything that can turn their season around.
"We've been working hard all week for Friday's game," says sophomore Linebacker Ty Miller. "We want to win at home like crazy. We want it for the fans and the community, but more importantly for ourselves. Nothing is going to stop us from getting this dub this week, we've worked through all the nasty weather all week and we're ready to pull off the win at home."
The Cards have a game-by-game mindset as they hope to find success in the postseason. 
"I'm ready to show GRC what we really are capable of," says McAlpin. "Be there, be loud, and be rowdy."
Leave a Comment
About the Contributor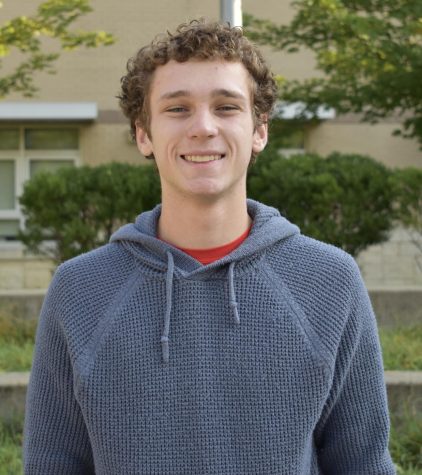 Sawyer Broeking, Sports Editor
Sawyer's biggest fear is not having someone to talk to. He thinks Whales are better than Goldfish because they are a unique combination between cheddar...