After two year drought, rivalry matchup is back
With the biggest game of the season kicking off in a matter of hours, your Cards are dialed in and look to bring home the rivalry win against the Indians from Montgomery County.
"This game isn't just any other high school football rivalry," says senior running back and safety Carter Lowe. "The war on I-64 is a battle between two schools that despise one another. From all the talk about which school is better at sports, to all the drama outside of school, it's just a natural hate. I grew up playing with guys on Moco's team, making memories and friendships with them. But I've put all that behind me and developed a mentality that they are my worst enemy."
The Cardinals have been off to a rough start this season, having an overall record of 1-2. Their only win being against Madison Southern, which was a forfeit due to Covid issues within the Eagle program. 
Despite the Cardinals struggles so far, the Indians are having challenges of their own. Their last game on Aug. 27 was their first win in two years, pushing their overall record this season to 1-1.
 "As far as our preparation this week we've had a good week of work," says assistant coach Matt Chandler. "The guys have been focussed on film breaking down what they do offensively and defensively. As far as the rivalry, anytime you get to play in a rivalry situation it's a great experience. It's a storied past between these two schools, so coming in and being a part of it is something I'm excited to put a fingerprint on. I know the kids are excited and the community is excited and anytime you get that, it's just a great atmosphere for competition and I just look forward to that. I'm eager to get it underway and i'm know the guys are too."
The Cardinals looked immensely better last week against West Jessamine compared to the first game against Cooper. The offence produced 183 rushing yards with one rushing touchdown and 185 passing yards with two receiving touchdowns against the Colts, compared to their 103 rushing yards and 57 receiving yards with no touchdowns against the Jaguars from Cooper. Unfortunately the Cards fell short to the Colts, losing 21-35. 
"The very last MOCO game is very special and bitter sweet to me," says senior linebacker Jeremy Clem. "The feeling the atmosphere gives you throughout the whole school day is just indescribable. I know that I'm gonna miss that next year. Come kickoff, me and my brothers will have the integrity and drive to fight the whole game to come out on top."
GRC's overall record against the Indians is 37-17. Over the 54 years of playing them, the Cardinals have proven their superiority over MoCo by outscoring them 1,403 points to 965. 
"It's my senior year," says linebacker Angus Mann. "This game means everything to me. I want to end my senior year with a win against Moco. I'm ready to give 100% effort and I know my teammates are too."
Continuing their dominance of the rivalry is the only thing in sight for the Cardinals. 
"The tension will be very high both ways," says Lowe. "But you can expect us to keep our composure and fight for one another till the final whistle. We've waited two years to finally play them again, and I don't think we've ever been so ready to silence all the doubters and earn our bragging rights for the year."
About the Writer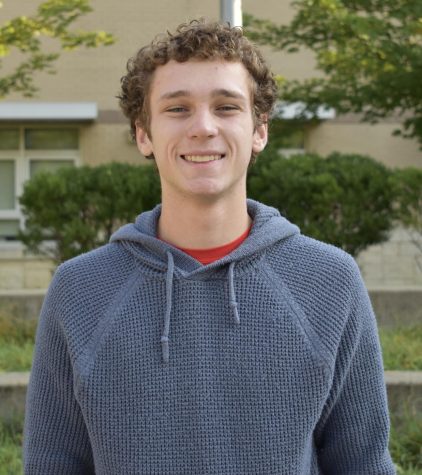 Sawyer Broeking, Sports Editor
Sawyer's biggest fear is not having someone to talk to. He thinks Whales are better than Goldfish because they are a unique combination between cheddar...