Varney brings years of experience to GRC baseball
The Cardinal baseball team is eager to turn a fresh page and start their journey with newly hired head coach Chris Varney.
"The potential of everything here is limitless," says Varney. "From the size of the school, to the facilities, and the athletes, everything is the highest level of quality."
Since the beginning of his coaching career the GRC program has caught Varney's eye.
"I have been interested in coaching at GRC since 2003 when I was an assistant coach at Hazard," says Varney. "GRC had come to our baseball tournament  in Hazard and I was in charge of escorting the GRC team and showing them around. That's when I first met Coach Larry Allison, saw the type of program that he had, and how he ran things and knew I wanted to be a part of something like that. Coach Allison and I have remained friends to this day and he has helped me out in so many ways."
Varney started his high school baseball career in 1991 as a seventh grader at Hazard High School in Hazard, Kentucky. It was there he was a part of two region championships.
After high school he attended Alice Loyd College, where he played four seasons with the Eagles as their second baseman. While attending Alice Loyd he received his bachelor's degree in physical education.
"I knew that I wanted to be a baseball coach ever since I was a junior in high school," says Varney. "But back then you weren't allowed to coach if you weren't a teacher, so that is also why I went into the education field."
Upon graduating, he began his coaching and teaching career in 2002 at June Buchanan. After a one year stop as the head coach of the Crusaders, he returned to his alma mater, Hazard High, for three years as an assistant coach. It was there that he was a part of two more regional titles. 
In 2006 he accepted the job as the Powell County High School head coach, where he stayed until 2018. In his 12 years at Powell county he won two regional titles and was regional runner up three times. 
 "When I think back to my experiences as a player, I had some talent but not the top level talent," says Varney. "I had to think my way through the game in every aspect possible, whether it be positioning myself better or my set up at the plate. I knew if the mind aspect of my game was in the best shape it could be in it would lead me to success at the highest level possible and that is what I want all my players to learn."
Varney took his winning experience to Montgomery County High School in 2018 where he immediately applied his knowledge to a program who had struggled for years. In his first season with the Indians, Varney led the team to a district championship and regional runner up trophy. It was also in 2018 that coach Varney was inducted into the Kentucky High School Baseball Coach's Association Hall of Fame. The following season Varney brought home the district and regional title to a town who hadn't won a regional trophy since 1977. 
"We have to lay the foundation of what we are going to excel in first," says Varney. "The small things make the biggest difference, especially in the game of baseball and that is what I want the players to take in."
The GRC program has been known as one of the powerhouses of the 10th region for years. But in recent years the Cardinals have struggled to go far in the postseason, having a 3 year drought of making the region tournament. 
With 17 years of head coaching experience and an overall record of 368 wins and 184 losses, coach Varney has clearly shown he knows what it takes to lead the program to the top.
"I can't wait to start practicing and competing," says senior outfielder Spencer Stocker. "My fellow seniors and I want to end with a bang. It's pretty simple, we want to win the region and we are ready to put in whatever it takes to achieve that goal."
The Cardinal baseball program has an exciting journey ahead, with a coach who is eager to turn the program back to what it knows best…winning.
"I want my team to care about winning and their teammates more than themselves," says Varney. "We will learn to work harder, be smarter, and compete better than anyone else. I can't wait to get to work and return the GRC baseball program back to its former glory."
About the Writer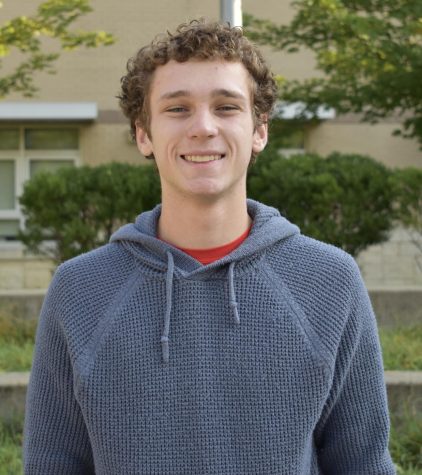 Sawyer Broeking, Sports Editor
Sawyer's biggest fear is not having someone to talk to. He thinks Whales are better than Goldfish because they are a unique combination between cheddar...