Cards travel to West Jessamine tonight with renewed focus
The Cards are set and ready to roll into West Jessamine tonight, after a long two-week break from games.
"The first game was a wake up call for us," says junior quarterback Brady Denham. "We have to execute every play. We don't have the size or talent to take plays off. We have to be 100% every snap or we won't win. The first game, as rough as it was, helped us realize that we have to get better. The past two weeks we've been working on our quick game and short throws. We'll still be running a lot, but expect us to mix some things up this Friday night."
The Cards seemed to struggle to find a rhythm offensively in their first game of the season against Cooper, only accumulating 169 yards of offense compared to the Jaguars 281 yards. 
The Team looked to bounce back in week two against Madison Southern, but unfortunately due to Covid issues within the opposing team's program, the Eagles from Madison Southern had to forfeit the game giving the Cardinals technically their first win of the season.
"Our mindset going into West Jessamine Friday night is to continue working on the things that we can control, which is ourselves," says Assistant Coach Jordan Ray. "We watch our opponents and break down film, but we have to be mentally and physically prepared to do our job every snap. Taking our energy, using a #JustUs viewpoint and focusing on our individual efforts to better ourselves and teammates is what is gonna have to happen to find success."
After two weeks of hard-nosed practices, the team looks to prove themselves against West Jess. The Colts are currently 0-1 after a 55-25 blowout loss to Southwestern last week, where they only recorded 39 rushing yards, along with 154 receiving yards.
"We have a lot of young guys stepping up and taking on new roles and responsibilities," says Coach Ray. "Our guys have taken on these roles and have done a really good job at evaluating themselves on film and noticing the corrections that are required to improve their skills. We've had a great two weeks of hard work and effort from our guys, and we hope to represent all of Clark County with pride on Friday night at West Jessamine."
Kickoff is at 7:30, so hit the road and come support your Cardinals as they look to take their first official win of the season over the Colts tonight. 
—-
No cash sales at the gate but debit/ credit cards accepted
About the Writer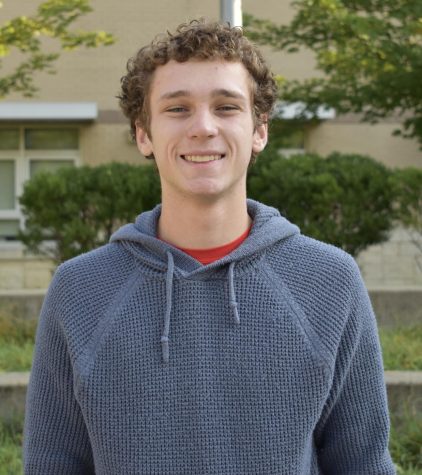 Sawyer Broeking, Sports Editor
Sawyer's biggest fear is not having someone to talk to. He thinks Whales are better than Goldfish because they are a unique combination between cheddar...