Chirico working to prepare football Cards for fall
With a new coaching staff comes a lot of changes.
After being hired, head football coach Joe Chirico went straight to work.
At the Spring Game, fans got a glimpse into the new way of life for the GRC football program.
"Spring ball has been spectacular," says junior linebacker and running back Carter Lowe. "The coach's competitiveness has tremendously rubbed off on us. They push us day in and day out to fight for the man next to us and compete in everything we do."
The team has 6 a.m. weightlifting sessions, film studies, and on-field practices.
"The new mindset has been nothing but positive," Lowe said. "Going into summer ball and the fall we just have to keep buying into the team motto, TEAM>ME."
An important thing to take away from the game was the Cardinal defense looked extremely strong.
The saying, "defense wins championships" never seems to disappoint, especially for Coach Chirico, who is coming off of a 1A State Championship with Paintsville.
The core of the defense, the D-line and linebackers, looked hungry to hit someone every play.
The corners and safeties looked bigger and more elusive than in previous years, which could give the Cardinals an advantage going into the fall.  Putting a strong defense together is something Coach Chirico has always prided himself on. 
Although the offense struggled at first, they showed lots of promising moments. The two QBs showcased for the Cardinals are extremely young and inexperienced and with time, will learn the offense and how to succeed with it.
The Cardinals return a strong group of wideouts and running backs in Carter Lowe, Jeremiah Mundy Lloyd, and Tate Spayd. 
"The spring game was for sure a lot of fun for me and my brothers," says junior Blake Embry. "It gave us the opportunity to test our abilities and see who was willing to work their hardest for four quarters of football. Both teams played like we were rivals, but when it was all finished, we came together again as a family."
Embry said the hard work this spring is paying off. "Giving it our 110% every practice has brought us all together," he said. "Learning everything new has been tough, but hard work always pays off and I believe that the spring game showed that. I know that with these coaches we will do great things as they push our limits day to day.  As summer approaches, I can't wait to put the pads back on and give it my all with my family! #TEAM>ME."
About the Contributor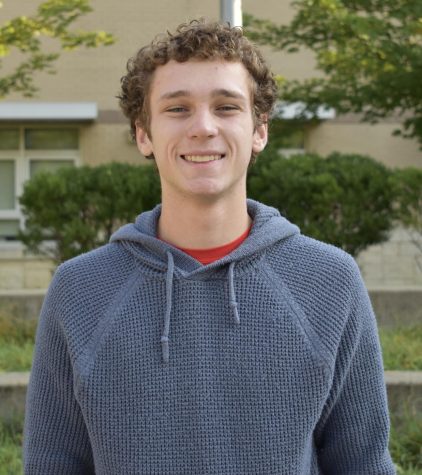 Sawyer Broeking, Sports Editor
Sawyer's biggest fear is not having someone to talk to. He thinks Whales are better than Goldfish because they are a unique combination between cheddar...