Sophomore Hunter Cooper gives back after cancer journey
Hunter's Ride for Life to benefit UK DanceBlue is Saturday
Cancer. A word no one wants to hear, especially a 12-year-old. 
In 2017, Hunter Cooper, a GRC student, was diagnosed with Acute Lymphoblastic Leukemia (ALL).
Hunter has had many challenges, but remaining nonstop positive is what keeps him going. 
"My friends and family really help me to stay positive and just always bring me joy and inspiration through the hard times," said Hunter.
As a way of giving back, Hunter has currently set up a bike-a-thon fundraiser to help raise money for the UK Dance Blue marathon that happens yearly. The event is Saturday, May 1 (see flyer below).
Hunter's friends and family are continuously there for him when he organizes fundraisers to raise awareness for pediatric cancer centers.
He chooses to support DanceBlue because they are a non-profit organization that funds the UK DanceBlue Pediatric Hematology and Oncology Clinic.  
"I feel that because of God's healing and their medical expertise are the reasons I'm here today," he said. "With that in mind, I want to give back to them in any little way that I can."
Hunter is now done with chemotherapy and the cancer is gone. He will have sporadic visits with his oncologist for the rest of his life. 
"From the very beginning, family, friends, and the Calvary youth group, were all just so supportive," he said. "James (youth pastor) and a couple of other Calvary kids shaved their heads in support of my chemo treatment. A lot of other people gave me get well soon cards and it just all gave me inspiration for the hard fight ahead."
Hunter was told he would have to have treatment for 3½ years, including spinal taps, blood transfusions, and chemo infusions at the hospital, and oral chemo pills. 
"My treatment was a very long one," Hunter said. "The first 10 months were the hardest part to where I couldn't go to school, couldn't be in public, and I couldn't really see my friends."
During the time of treatment, his lung collapsed and he developed blood clot from his first port, causing him to barely breathe.
Then, Hunter had a severe allergic reaction to a blood transfusion, causing him to break out in hives all over. 
"I endured a lot of hardships through the very first part of my journey, with chemo side effects, and other unexpected bumps in the road," he said. "I was super sick. It was a miracle if I could eat anything and keep it down, because I never wanted to eat and if I did, I threw up at least once that day."
This resulted in a phenomenal athlete losing nearly 30 pounds.
"I went from a healthy athlete to an unhealthy kid, with legs the size of toothpicks," Hunter said. "I thought people would look at me and not see Hunter Cooper; they saw a sick person."
That experience is all in the past and Hunter continues to believe that no challenge in life can overcome God's healing.
In fact, Hunter wants to follow his dreams, and use his hardships to help others in the future, and become a pediatric oncologist.
"If God created the universe," Hunter says, "He can get you through cancer."
Leave a Comment
About the Contributor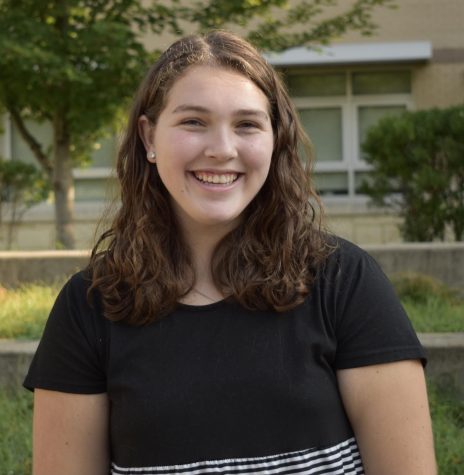 Sara Clark, Features Editor
Sara is most afraid of being kidnapped. She thinks Goldfish are better than Whales, but only the extra cheddar because taste is the most important in her eyes. If she were a type of shoe, she would be...