New facilities: A breath of fresh air for the GRC track team
'The new facilities open up so many doors for these student athletes…" – Coach Dodd Dixon
With the track and field season well underway, the track team is finally experiencing what it feels like to have everything it needs to succeed.
The abundant facilities finally allow GRC to host track meets, which hasn't been an option in the past. Even practices look different for the program.
In the past, according to head coach Dodd Dixon, everything they needed for track was in the back of his car. Now, everything is right here on campus.
The team has all new uniforms, high jump equipment, pole-vaulting equipment, and much more that hasn't been around at GRC in a very long time.
"It's just so crazy to see everything," says head track and field coach Dodd Dixon. "We haven't had some of this equipment in a very long time. I think the last time we had a pole vaulting facility was in 1979. Before this year, I used to take kids to meets and teach them how to pole vault there, it's just so different coaching with everything you're supposed to have. It's all a game changer." 
The facilities catch the eyes of many people around the state of Kentucky and are insane to all be for just a high school.
"It's a wonderful facility," says track and field assistant coach Grayson Brookshire. "Some collegiate teams don't even have it this nice. It truly boosts everyone's moral and sense of pride for the sport we all love."
Coach Dixon says the team has started off strong, taking a victory at the annual Mayor's Cup in their first meet of the year in Montgomery County. GRC has taken the Mayor's Cup eight out of the last 10 years.
In their second meet of the year and first ever meet held at GRC the boys team took second place, with the girls team taking home third. The meet was rather large, including 15 teams from around Kentucky. In their third meet, which was a smaller seven team meet held at Bourbon County, the boys team took home second, with the girls taking fifth. 
Leading the way for the Cardinals this year is standout track star and NKU track commit Julia Pohl.
Pohl is currently ranked first in high jump, second in long jump, and seventh in triple jump in the state.
Johnathan Rieteral is another top athlete for the Cards who is currently 10th in the state in hurdles.
Senior and Transylvania commit Hunter Raney is ranked first in the region in an event that is new to him – pole vaulting. 
These athletes have worked so hard with so little their whole careers and to be able to give them everything they could dream of is something special. 
"Being able to have a real track with good equipment is what has made my senior year stand out amongst all the other years I've been a part of the track program," says Pohl. "With access to real equipment, I have been able to practice more and further improve my skills as an athlete. I'm forever grateful for all that GRC has done for me and I'm proud to call myself a Cardinal for life."
2021 has been filled with many ups and downs, but this year for the track program the new amenities have been nothing but ups.
The facilities have provided a sense of pride for the program and brought new life where the team has lacked in prior years. 
"It's awesome to finally have a place to call home," says Raney. "It has definitely made me want to work harder. We are all so blessed to have the things we have. I think what I'm going to miss the most about GRC track is my teammates. They got me to the place I am today, I couldn't have gotten to the collegiate level without them."
Finally being able to have a home where these athletes can hang up their spikes after a long day of hard work is so special.
The track and everything else that comes with it was the missing piece to the puzzle that the GRC track program longed for all these years. 
"With the pandemic I wasn't sure if I'd even get an opportunity to compete my senior year," says Rieteral. "Being able to run and compete has definitely made my life a lot more enjoyable. Just knowing how lucky we are to have the nice things we have motivates me every single day. The facilities make you proud to be an athlete at GRC. For me, there is nothing like that rush of adrenaline right when the gun goes off. It sparked something in me to compete and I haven't been able to stop since. I'm forever grateful for the sport and the time I've had running at GRC."
The track team finally has a home where they can build upon the greatness that already surrounds the program.
It's a breath of fresh air for the GRC track program.
"We've had a very successful program over the last 20 years," says coach Dixon. "We have had tons of kids go to state and even advance to the collegiate level. The year Covid shut us down, our girls were one or two points away from winning the indoor state championship and they ended up placing third. But even with all that success in the past, I'm pumped to see what the future holds for this program. The new facilities open up so many doors for these student athletes and I'm so excited to see the results in the coming years."
GRC will host the region meet with the date to be announced.
"This year I've heard nothing but talk about how nice our facilities are," says Dixon. "I can't help but smile, because i know it wasn't always like this. It's a very humbling experience, but one that I'm grateful to be a part of."
Leave a Comment
About the Contributor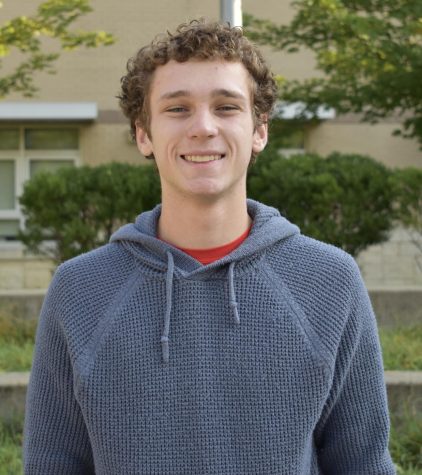 Sawyer Broeking, Sports Editor
Sawyer's biggest fear is not having someone to talk to. He thinks Whales are better than Goldfish because they are a unique combination between cheddar...