A 386 day wait and two Region Championships later, your Cards are finally back in Rupp Arena
Cards set for 8 p.m. tipoff against the Oldham County Colonels
 On March 10th, 2020, the George Rogers Clark boys basketball team defeated rival Montgomery County in a back-and-forth battle to win the regional title, sending them to Rupp Arena.
Unfortunately, due to circumstances out of everyone's control, the Sweet Sixteen was cancelled because of Covid-19.
2021 was a year of redemption for the Cardinals. The team had one thing on their agenda – get back to Rupp.
After defeating the Campbell County Camels Saturday night, 60-59, with an incredible buzzer beater by Jerone Morton, that goal was achieved.
Two Region Championships and a tremendously long 386 day wait later, your GRC Cardinals will finally play at Rupp Arena for the first time since 2012.
"There are so many emotions that come with that Regional trophy," says head basketball coach Josh Cook. "I'm just so happy for the school, community, and most importantly my boys. They deserved this so much, especially after the cancelation last year."
The Cards dominated the 10th region this year going a perfect 14-0.
Demolishing rival Montgomery County for the 14th time in a row and beating Mason County twice in the same season. The Cards took care of business all season long.
"As soon as the game was over an immediate feeling of relief came over me. I was just so filled with joy, the feeling was just special," says senior wing Jared Wellman. "This year has been extremely difficult for me and my team, so getting to finish up my senior season doing what I love on the biggest stage in Kentucky means the world to me. We worked so hard, Rupp was the ultimate goal and we achieved it." 
Playing in Rupp Arena is a dream come true for many of the players throughout  the 16 teams. 
"We feel really deserving of this opportunity," says junior wing Jerone Morton. "After working so hard for the past year and actually achieving the thing you want the most is a dream come true. Truly something I will always remember."
Along with two consecutive Region Championships, the Cards took care of business in the district championship this year, winning its fourth district title in a row.  
"As a team we've had our ups and downs this season with injuries etc., but to be able to persevere and keep grinding is something special," says junior wing Sammy Hernandez. "Even when people wrote us off, we believed in ourselves. To finally get to play at Rupp is a dream come true, I'm extremely grateful for my teammates and this program, I hope everyone knows we aren't done just yet."
Winning their second consecutive Region Championship pushes the Cardinals total 10th Region championships to 11, with 23 all together. 
"It makes us feel like the things we've all gone through were for a reason," says junior point guard Aden Slone. "All of the experiences molded us together as a family and just made that victory that much sweeter. We all had one goal this year and were willing to do whatever it took to achieve it. We kept thinking about the countless days we spent in the gym preparing for that very moment and when the chance arose, we all believed in each other and pulled through. Emotionally I was all over the place, feelings of pure joy and adrenaline were flowing through me, I was just so happy for my teammates and myself."
The Cardinals take on the Colonels from Oldham County in the first round of the sweet sixteen tonight at 8 p.m.
The Colonels defeated North Oldham in the 8th Region championship Saturday night and have hopes to go far in the tournament, but not if the Cardinals have anything to do about it.
Oldham County is averaging 64.5 points per game, while the Cardinals are averaging 78.6 ppg.
Your Cards look to be a favorite for tonight's game, but it's basketball, in March, so you never know what could happen.
The night will for sure be special for both teams.
"This season hasn't been easy, but it never is," says Cook. "Everything happens for a reason and the best views come from the highest Mountains. I can't wait to see everyone at Rupp."
About the Writer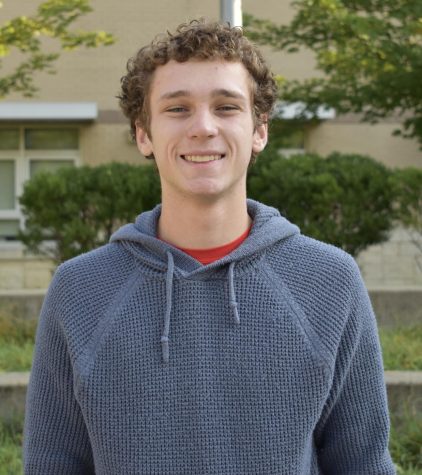 Sawyer Broeking, Sports Editor
Sawyer's biggest fear is not having someone to talk to. He thinks Whales are better than Goldfish because they are a unique combination between cheddar...