Baseball Cards look to make up for lost time
Cards are on the road for their opener, facing Harrison County today; home opener is April 3
As everyone knows this past year has been a wild and unfortunately bumpy ride, but for spring sports across the state, Covid hit the hardest. It took away a season that these athletes will never be able to get back. But through all the darkness, it lit a fire under every player who lost a season of the sport they love so dearly.
The 2021 season will be a testament to each and every single player's love of the game. It will show you how much Kentucky missed baseball, but more important, how much Clark County missed baseball. 
"We are 100% looking forward to getting the season rolling," says Head Baseball Coach Matt Puckett. "Losing last season is something I will never forget, my heart went out to all the seniors and the rest of my players who lost their season. Our three seniors from last year; Joe Austin, Chance Scobee, and Jarret Blakemore will forever hold a place close to my heart. With that being said, we are just ready to start a fresh season." 
And a fresh season is just what the GRC baseball program has in store. They open their season up on the road for three straight games, but on April 3rd will have their first game in their new state of the art stadium against Whitley County.
The unique turf field has been a long wait for GRC, but what better way to start this well-anticipated season, then with a brand new home.
"We're just so fortunate to have all the things we have," says Puckett. "Our school board and administrators really outdid themselves. The turf gives us the ability to practice and play games right after it has rained, unlike the old field where we'd be out for days. Being able to play and practice more is a huge bonus that should give us an upper hand." 
With the unveiling of the new field also comes with some challenges. The new field as you all know is turf, so getting used to the bounce and how fast balls fly off the surface will take some time to get used to. But eventually it will work to the team's advantage since they are the only one in the 10th Region with a turf field and one of two teams anywhere near Central Kentucky with one. 
"My guys are adjusting well to the turf so far," says Puckett. "It just takes time dealing with something like this, but everyone loves it so far." 
The 2021 season places everyone in the state on an even playing field. There is a lot of unknown, because no team played last year and most of the teams don't have much experience when it comes to varsity action. So each team's off-season work will show what they are made of. 
Getting work in hasn't been a problem for GRC this off-season. It's hard not to get rep after rep when you have a 10,000 square foot fieldhouse, that you can take infield in, and four drop-down batting cages. This just means when the weather is too bad to practice outside, practice just moves on into the inside turf. 
"We've definitely been able to hit more,"  says senior Aaron Abner. "The facility is much bigger and has a lot more space, which has allowed for a lot more reps and drills to be done during practice."
According to Prepbaseballreport.com GRC is ranked 24th in the state. The Cards return a solid group of upperclassmen with a lot of upcoming underclassmen stars.
Among the upperclassmen is EKU commit Aaron Abner. Aaron is a left-handed pitcher who throws in the high 80s and is one of the best pitchers in the 10th Region and will for sure be a menace to face for any team this season. Along with his arm, Abner has a strong bat on him. He has the power to homer anywhere in the park. 
GRC looks to showcase an upcoming star player this year in Brady Davis. Davis is a freshman right-handed utility player who is currently committed to the University of Louisville and ranked number one in his class in the state of Kentucky. Davis is a pitcher among all other trades who throws in the 90s, with command.
Along with Davis and Abner is junior left-handed pitcher, Keyonte Back. Back produces a lot of ball movement with his arm and will be a great aset this year for the Cards. The Cards have a strong bullpen and will for sure be a tough team to beat in the 10th region. 
GRC's other varsity experience falls with senior infielder Chase Puckett who played the role of second base in his sophomore campaign. Pucket has a nice consistent bat on him and can take the ball anywhere in the field. He's definitely a player that you want in the batter's box. 
"As far as me and my teammates' goals for this season, we just want to leave our hearts out on the field knowing we gave it our all," says senior infielder Chase Pucket. "I think we have an abundance of effort that we are willing to give and hopefully that turns into a lot of wins."
Although GRC doesn't have much varsity experience among their team, they bring to the table a strong group of players who eat, sleep, and breathe the game of baseball.
You can't teach heart or the love for the game, but it surely shines bright for this group. These athletes have been out of high school baseball for too long; they're hungry to get back out there and make up for lost time. 
Leave a Comment
About the Contributor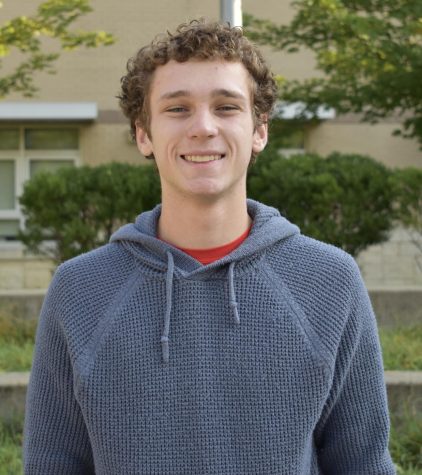 Sawyer Broeking, Sports Editor
Sawyer's biggest fear is not having someone to talk to. He thinks Whales are better than Goldfish because they are a unique combination between cheddar and fun. If he were a type of shoe, he would be a...