WinCity Cards are RUPP ARENA BOUND!
Morton's buzzer beater sends Cards back to Sweet Sixteen  
After COVID-19 stole the Cardinals' Sweet Sixteen opportunity last year, the Cards took the 10th Region title once again, to punch their ticket to Rupp Arena.
GRC pulled off the miracle with a Jerone Morton buzzer beater to beat the Camels of Campbell County, 60-59.
The Cards got off to a slow start, finding themselves down 8-0 to start the game, and making Coach Cook burn an early timeout.
The timeout worked because WinCity went on a quick 14-0 run and found themselves in the lead.
Aden Slone's three right before the buzzer gave the Cards a seven-point lead after one quarter of play.
Garrett Beiting of Campbell County could not miss. He hit five of six threes and had 24 points. GRC had trouble stopping him defensively.
Trent Edwards had a big impact defensively again, coming up with multiple blocks.
Jerone Morton and Jarred Wellman both had big first halves helping maintain the Cards' lead. The two combined for 24 of GRC's 35 points at halftime, giving them a 35-28 lead at the break. 
WinCity seemed to slow things down to start the second half which allowed the Camels to crawl back into it.
GRC had trouble getting shots to fall from beyond the arc and Campbell County took advantage of the missed opportunities. The Camels knocked down a couple of threes and all of a sudden we were all square.
Ending the quarter with a triple by Morton gave GRC an uncomfortable two-point lead going into the final quarter.
Up 45-43, the Cards just needed to hang on for eight more minutes to advance to the Sweet 16.
After being down most of the game, Campbell County's Garrett Beiting and Eric Davie made some big-time buckets that gave the Camels the lead.
However, GRC always had an answer to keep them within one possession.
After a questionable timeout awarded to the Camels, the Cards were all square with just about two minutes to go.
Coming out of the timeout, the Camels' Kason Jackson hit a big-time three to take the lead with about a minute and a half left.
GRC quickly responded to cut it back within one.
After both teams had empty possessions, the Cards were forced to foul.
At the line was Campbell's Aydan Hamilton with a one and one, and he missed it.
GRC quickly took a timeout to draw up one final play.
Campbell County came out in man defense, which meant –  Give it to Morton and let him go to work.
Slone passed it in to Morton, ReShaun Hampton drew the defense out of the lane, and Jerone beat his man and laid it in at the buzzer.
Morton led the team with 27 points followed by Wellman with 15. Slone had 8 and making some beautiful passes, led the team in assists.
WinCity take on Oldham County at 8:00 on Wednesday in the KHSAA State Tournament.
We'll see you at Rupp Arena! 
About the Contributor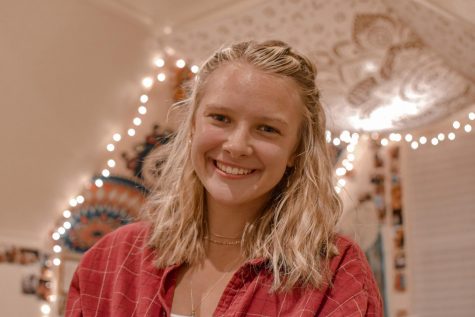 Cameron Anderson, Photo Editor
Cameron, also known as Swaggy C, is a junior at GRC. Her favorite sound is metal cleats on concrete or thunderstorms and she says the best part of waking...