Grammy Looks 2021 – What was fab and what was drab
Everyone who's anyone knows that music's biggest night of the year isn't solely for praising our favorite artists of the past year. It's also for designers all around the world to show off their designs for the upcoming season.
But I'm sure not all of us got to see the Grammy looks this year, so fear not, my little fashionistas.
I've got the 411 on the best, brightest, and boldest red carpet Grammy looks to start off our spring 2021 fashion season.
(DISCLAIMER:This is only a review of a few red-carpet looks, and not the performance looks. I am reviewing these celebs solely on if I liked the pieces, not if I like their music. This article was only for fun and not to spread hate or any negative energy. I hope you enjoy!)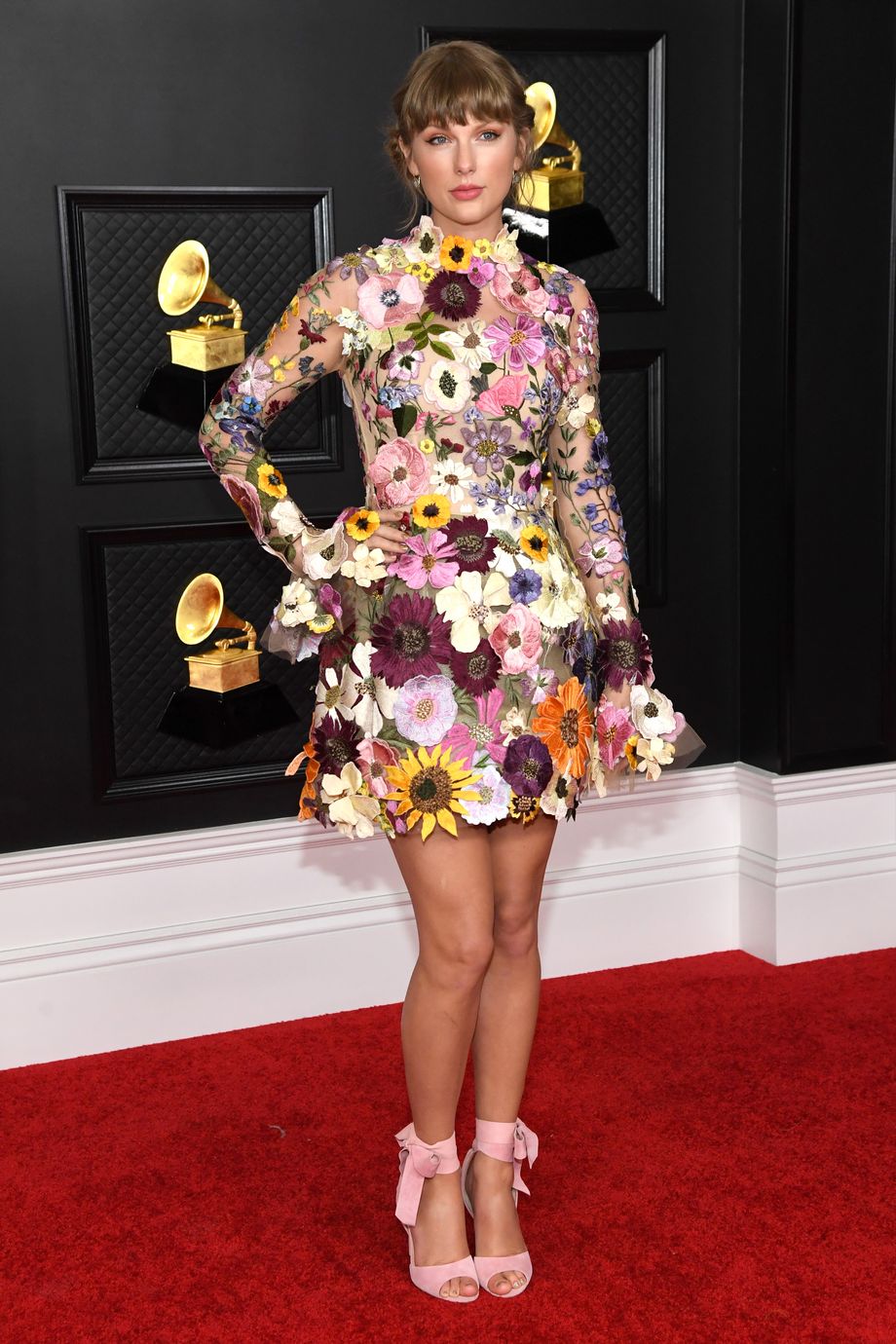 Taylor Swift
T-swizz was nominated for six awards, and girlfriend dressed like it. She came spring ready in an Oscar de la Renta flowered long-sleeved mini dress, with pale pink Christian Louboutins, and of course, a matching flowered Oscar de la Renta mask. That looked itchy Tay-Tay! I have got to say, I am a fan of the floral dress. I think it is very Taylor. It highlights her new Folklore/Evermore era, and it is modest without being boring. I love it. 
I'm gonna give this look a 10/10.
Meagan Thee Stallion
Nominated for four Grammys, and taking home three, the "Savage" rapper definitely came in hot with an ORANGE (and I mean orange) Dolce & Gabbana dress with an orange wrap-around bow in the back, and a slit that ran from her ankle to her waist. It's not my least favorite, but it is definitely not my favorite. I would have loved to see a more fitting dress that accentuated her "body-ody-ody-ody-ody-ody-ody-ody."
The traffic cone-esk look gets a 6/10. 
Harry Styles
The 27-year-old former One Direction singer SHOWED UP in a clueless inspired plaid yellow Gucci jacket, flared brown Gucci pants, a V-neck plaid sweater, and purple feather boa to top it off. Styles took home his first career Grammy of "Best Pop Performance" for Watermelon Sugar.
Honestly, I'm gonna give this look a 10/10 solely because Clueless is my favorite movie. I think Cher would be proud.
Beyoncé
Queen B reigned supreme this year. She was nominated for nine Grammys (the most out of everyone) and took home four, setting the Grammy Record for most Grammys won by ANY artist, male or female. Bey has won 28 Grammys over her career, and became the first female duo (alongside fellow Texan Meagan Thee Stallion) to win best rap performance. She's amazing; HOWEVER, the dress was not. The Shciparelli skin tight off-the-shoulder black leather dress rivaled that of a Hefty trash bag. I expected her to show up in a BALLGOWN or something a little more creative. For me, this look didn't do it. I'll give it a 3/10
DaBaby
Arguably the best look thus far, the "Rockstar" rapper DaBaby brought it to the Grammys. Sporting a classy, yet stylish Dolce and Gabbana suit, with a matching fedora, and a diamond encrusted DG brooch, you would have never guessed it was his first award show. 
I'm giving this look a 12/10. It was no doubt my favorite look of the night.
Noah Cyrus
This look was definitely the most high fashion of the night. Cyrus had the honor of wearing Shciparelli's Haute Couture spring/summer 2021 finale collection piece. The floor length silk gown had an angelic, billowing white stole that wrapped all the way around her neck and shoulders. The "Cry" singer could not have worn anything better for her Awards Show debut. To me, this look is Noah Cyrus' spectacular entrance into the world of fashion.
I'll have to give this look a 9/10.
Billie Ellish
The 19-year-old Indie-pop sensation wore head to toe Gucci printed pant/top set, with matching nails and matching Gucci bucket hat. Ellish is no stranger to Gucci, wearing it in past award shows and in everyday wear as well. I did not like this look in the slightest bit. I understand the look was very "Billie" but a bucket hat to the Grammys? No no. I am also not a fan of printed sets for award shows. I mean, come on! In my opinion, you have to come a little more elegant than that.
I'm giving this look a 2/10. It just didn't do it for me. 
All in all, I appreciate everyone's efforts, but only one can be the best. Here are my final rankings of the looks on this list.
1-Dababy (Dolce and Gabbana)
2-Taylor Swift (Oscar de la Renta & Christian Louboutin)
3-Harry Styles (Gucci)
4-Noah Cyrus (Shciparelli)
5-Meagan thee Stallion (Dolce and Gabbana)
6-Beyoncé (Schiparelli)
7-Billie Ellish (Gucci)
Leave a Comment