Swim senior reflects on a meaningful, fun career
One of the most heartbreaking parts of my senior year is leaving my team.
The GRC swim team has been a safe haven for me for six years.
Although I am not the most athletic person, being a part of the team has given me a sense of leadership and learning how to work together as a team.
Starting the team as a middle schooler was definitely intimidating, but each year, no matter who joins, the environment is always welcoming.
While keeping you in good shape, swimming has so many other benefits. It's therapeutic.
There's no stress reliever like getting in the water and being in your zone, hearing nothing but the moving water. I've had some of the best thoughts of clarity while swimming laps at practice.
Another perk of being a Cardinal swimmer is getting to know our swim coach, Christi Jones. She is supportive, understanding, and motivating.
She has been so accommodating to all the swimmers this season, even though it has been hard and different. She is a joy to know and to have as a coach.
The environment of the swim team is unlike any other sports team I have been on. Swimming is a team sport as much as it is individual.
Although we have individual races and times to work on, everyone comes together to cheer on their teammates and make sure each swimmer feels appreciated.
Feeling the love from your team while you're in a race is a different type of happiness.
To add to that, cheering your teammates on feels pretty good, too.
A piece of advice from a senior: Try new things.
Don't be afraid to be adventurous and learn what hobbies you like.
I have learned so much about myself from this team and if you don't give the GRC swim team a try, you're doing yourself an injustice. 
Swim Senior Night Photo Gallery by Smoke Signals on SMUGMUG with free downloads
Leave a Comment
About the Contributor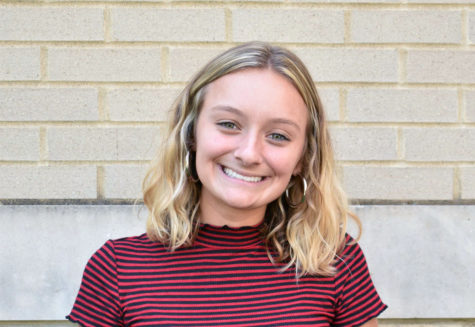 Ella Lucas, Multimedia Staff
Ella is a Junior at GRC. She enjoys swimming, Beta Club, and hiking. Her favorite food is breakfast food, and her favorite color is red.