After Covid made prom impossible last year, it will happen for the class of 2021
The night you have dreamed about since you were a freshman. The most memorable night of high school.
You start to get ready early in the morning. You get your hair done, then your makeup.
You put on the dress of your dreams and meet your date and your friends.
You capture photos that you'll always remember and go out to eat.
You walk through the school doors and see the gym decorated beautifully and it feels magical.
With the pandemic ramping up at the end of last year, prom wasn't possible at all for the Class of 2020.
Now a year later with the world beginning to slowly reopen, a prom event will be held at GRC, even though it won't look the same as it has in the past.
"We want to do as much as we can to make up for this difficult year," said Principal David Bolen. "I feel bad for last year's group, but we had no choice then."
Prom will be held on Saturday, April 24, with the theme, Night of Royalty. Masks will be required to attend due to health guidelines.
The prom will be divided into two sessions, with students permitted to choose which session to attend on a first come, first served basis. Each session will last approximately two hours with a 30-minute break between.
"With CDC and Health Department restrictions, we have to divide the night into sessions," Bolen explained. "This is the only option we have and is better than no prom at all."
Tickets will go on sale sometime after Spring Break and will be color coded by session.
"We will advertise when we are going to sell tickets so students can try their best to get the session they prefer," Bolen said. "Instead of assigning sessions, I'd rather give as many students as possible the choice."
Prom will be held in both the auxiliary gym and the courtyard (weather permitting).
"We have several great ideas for decorating the gym in the theme of Night of Royalty and we can tell you, it will look really nice," said Sherri Reed, staff Prom Committee coordinator. Ms. Reed added that GRC has ordered sun shade sails (triangular/rectangular awnings that are suspended) for the Courtyard.
Current seniors and seniors who graduated early this year are welcome along with underclassmen or any other dates as long as they are invited by a senior from GRC and fill out the guest form.
With two prom sessions and the difficulty of graduated seniors being able to vote, it will be impossible to have a prom king and queen. "We wanted to keep as many prom traditions as possible but with two sessions, the king and queen announcement would be impossible," Bolen said. "We are looking at other options to honor seniors as their GRC careers end."
An informal Smoke Signals survey found that surrounding schools are doing everything from hosting a sit-down dinner with no dance to not having a prom at all. In some communities, parents are handling the planning of a prom outside of school sponsorship. 
GRC's staff is willing to do the best they can to make prom possible for us even if it isn't the way students envisioned it.
"What last year's graduating class went through was bad enough but this year's group has missed 75% of this year plus 25% of last year," Bolen said. "I really feel for this year's seniors and want to finish the year as strong as possible. I can't change what has happened. Unfortunately we are limited but we will do all we can to make prom as special as possible."
About the Writer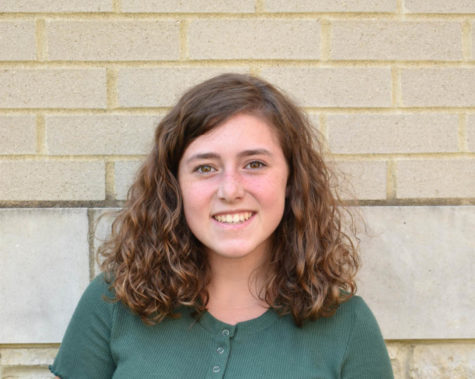 Shelby Summers, Multimedia Staff
Shelby is a Junior at GRC. She enjoys dance, y-club, and baking. Her favorite food is pasta and her favorite color is dark green.