GRC welcomes Lieutenant Colonel Thomas Krupp
'JROTC is a well-documented value-add to any student. Master Sergeant Lee and I invite all GRC students to try us out.' -LTC Krupp
GRC welcomes Lieutenant Colonel Thomas Krupp to the George Rogers Clark family.
Krupp was enlisted in the U.S. Army himself, and believes JROTC makes a difference in the lives of many students before they branch out into the military or into life.
Smoke Signals staff member Sara Clark visited with LTC Krupp to help everyone get to know him better.
In what branch of the military did you serve and for how long?
I served 22 years in the U.S. Army as a logistics officer and a few years in the Nevada Army National Guard as a cavalry scout.
Please provide a brief review of your background before taking this position.
My last position was leading the senior ROTC program at the University of Kentucky, where Riley Hunter (GRC '17) and Jason Estes (GRC '16) went and are now about to graduate and commission as officers into the U.S. Army. Riley is branched Armor, and Jason is branched Infantry; they'll be pinned with the gold bars of Second Lieutenants this May, then be off to their basic officer course and first duty assignments shortly thereafter. The GRC JROTC program set them up for success.
What made you decide to go into the military?
I made a "five-year post high school plan" to become an officer in the military. In order to do that, I knew I'd have to go to college, but being from rural Idaho, I had no way to pay for it. So I made the first three years of my plan enlistment in the U.S. Army. In JROTC, our cadets are required to make their own five-year plans. Action plans are essential to getting where you want to be in life.
How long have you been in a teaching position?
I've instructed soldiers for most of my career. In the military, you're always training, always being educated or educating others, including other countries' soldiers. I also had the opportunity to teach four years of college-level leadership and management courses at the University of Kentucky, before retiring from the Army and joining GRCHS.
What made you decide to become an instructor?
When I joined the ROTC team at the University of Kentucky, it was because I believed that passing on hard-won knowledge about leadership to the next generation of leaders was one of the most important things I could do. I believe the same applies to JROTC.
What led you to GRC?
I met GRC's JROTC team on several occasions while I worked at UK. I was invited to observe presentations given by GRC JROTC upperclassmen, and to say I was hugely impressed by the caliber of the students and their dedication to the program is an understatement.
What do you enjoy most about teaching students?
Laughing. Laughter wins every time.
Do you have personal memories of JROTC and if so, which had the most impact?
I didn't have JROTC at my high school; it would have been helpful I'm certain.
What is your goal in this position?
The JROTC curriculum is designed to teach students the value of citizenship, leadership, service to the community, personal responsibility, and a sense of accomplishment, while instilling self-esteem, teamwork, and self-discipline. We are going to tackle these areas and have fun doing it.
Why do you believe in JROTC for young people?
No 'belief' is required; JROTC is a well-documented value-add to any student. Master Sergeant Lee and I invite all GRC students to try us out.
Leave a Comment
About the Contributor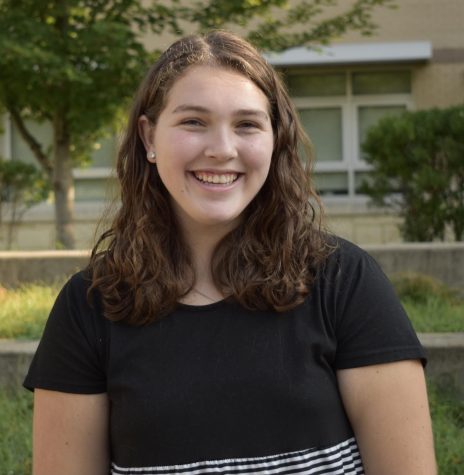 Sara Clark, Features Editor
Sara is most afraid of being kidnapped. She thinks Goldfish are better than Whales, but only the extra cheddar because taste is the most important in her...