Medina shares her lyrics in all walks of life
English teacher. Worship Leader. Songwriter. Christian. Fellowship of Christian Athletes leader. 
Anna Medina not only carries these titles, but she carries them well.
Throughout a challenging school year, Medina has found ways to share her faith and love of God with others.
"My goal for teaching this year has been to do everything I can to encourage students to tackle their learning one day at a time," she says. "My hope has been to foster a growth mindset, meaning no matter where we find ourselves, we can look at it as an opportunity to learn and grow."
Medina, who now lives in Lexington, was born and raised in Harlan County, Kentucky.
Graduating from the University of Kentucky, Medina hoped to return to her hometown to teach. 
While student teaching at Tates Creek High School, Medina found herself at a job fair standing in front of the Clark County booth. "I had never really heard of Clark County before," Medina said, "and I remember God highlighting that booth, and I was drawn there."
Medina was hired as she found that her position as an English teacher was needed at GRC.
Feeling "right at home," Medina says she is thankful for the staff and faculty at GRC. As she followed peace, God continued to open door after door with her in her new job. Now Mrs. Medina sponsors FCA and along with English, also teaches Bible as Literature and Musical Theater.
"Sometimes the ideas I get from Musical Theater impact the way I develop a lesson for English 2 or Bible as Literature, and vice versa," she says. " As an English Language Arts teacher, my job is to teach students how to analyze information in multiple media forms and develop their ability to communicate their own ideas and feelings in thoughtful and creative ways. It would be impossible to do that without first getting to know their passions, goals, and dreams."
Advising FCA has allowed Medina to be able to share her faith and her story with students. Leading their worship team, women's small group, and FCA as a whole she has also been able to share her love for songwriting. 
Music has played an important role in the lives of Medina and her family.
"I picked up piano when I was big enough to get on the stool," Medina said. "My dad would teach me and I would play piano for church. I took voice lessons and was involved in choir all the way through college." Even while studying to become a teacher, Medina did not halt her interests in music.
Medina continues to share her gifts in singing, playing piano, and even songwriting.
"It's a gift from God to be able to share the talents He has given us for his glory." She said, "My favorite thing in the whole world is being able to worship God with music."
Mrs. Medina has been able to travel overseas to share worship with others and to share her love for music. In high school she became a part of the Kentucky Ambassadors of Music. "I got to tour in Europe and see some of the world and some of the songs we sang were worship songs," she said. "I always dreamed of traveling and singing in places I had seen in movies."
Mrs. Medina still shares that same enthusiasm every time she is given the opportunity to sing.
"If you listen," Medina explains, "God will give you a new song each day."
And Mrs. Medina shows the joy of a "new song" each day throughout her third year of teaching at GRC.
She is not only a third year teacher but also a third generation teacher.
Knowing that her mother and grandmother were both teachers, and hoping to live up to their legacies, Medina had quite an expectation to live up to.
Mrs. Medina has no regret of becoming a teacher now, however. "The relationships I have gained engaging each student and the love that my coworkers have made me feel at home."
Expressing the joy of the Lord in each of her classes Medina. continues to share her songs to those who are missing that One lyric in their lives.
"My whole goal is to be a safe place for kids to come and to feel encouraged and know that someone believes in them," she says. "With FCA,  I have had that opportunity to open my doors, and for kids to come and share their faith in Jesus, and I think that is the greatest gift I could ask for."
Leave a Comment
About the Contributor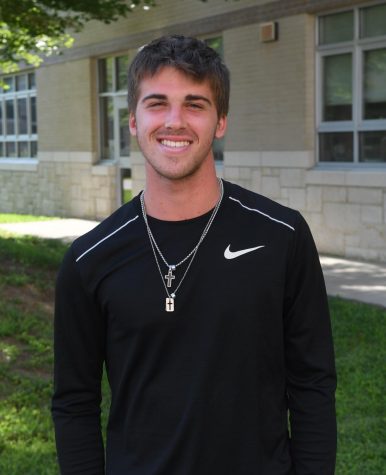 Tennyson Prater, Multimedia Staff
Tennyson would choose Don Señor, for sure. The quality of food is just unmatched. He would live in "Pirates of the Caribbean" because he has a thing...