The Call to Service
Smoke Signals senior Zeke Ross enlists in the U.S. Navy
Stressful college exams. Endless college debt. Unstructured freedom. The path taken by most high school graduates.
I decided to take a path less traveled. At the beginning of December, I enlisted in the United States Navy.
Serving is very important in my family.
My grandfather served in the Navy towards the end of Vietnam and my uncle is currently serving in the Army.
I also have a multitude of friends in the service or have been in the service, over a multitude of branches.
Hearing the stories as I've grown up has led me to wanting to serve.
My grandfather told me great tales of traveling in an aircraft carrier at the end of the Vietnam war.
The stories of traveling places like San Francisco and Pensacola, Florida.
Even the original make of the movie Midway was filmed on the ship he was working on. 
My uncle also tells me stories. He is active duty in the Army, but the stories of his service and those who he gets to teach are what drive me to serve.
How he teaches young men and women in the military the trade of electricity and how he teaches me skills to use in everyday life are things I will never forget. 
I also had a family friend who was in the Army. He sacrificed everything for this country and those he loved.
He did everything from clearing houses in search of Osama Bin Laden, to meeting with veterans back home to talk them through thoughts they struggle with.
I have learned from him the true meaning of sacrifice. And serving others.
While serving is a huge part of why I joined, the military will open up many opportunities for me.
The skills I will learn can greatly benefit me in life outside of service.
One of the big incentives the military hits on is the G.I. bill.
The G.I. bill is money given to me for potential schooling. I will get the opportunity to go to college to get a degree, or to stay in the service and make a career out of it.
The choice will be mine as an adult when I have a better grasp on what job I want in the real world.
This opens up a multitude of job opportunities, having a diploma but also having experience working.
I will have all this without the pressure of paying off tons of school debt.
Another huge appeal to me is the structure the military offers — gaining confidence, developing a great work ethic, and even waking up early.
Discipline is a huge benefit that gets overlooked.
Work ethic is something that others my age don't have, and I will be mentored on the importance of keeping a job and consistently working hard.
Waking up early is another great skill high schoolers don't think of.
The ability to wake up to give myself enough time to get ready for work and to be on time is important. It will set me apart from the crowd.
I get to ship out to the Great Lakes of Chicago area in the beginning of June.
I will actually get to complete my basic training before most of my peers will be starting their college courses.
I'll get a jump on my learning career and making money rather than stressing over tests or late nights filled with homework.
Yet another huge attraction that catches not only my attention, but the attention of others, is travel.
The military offers all kinds of great opportunities to see the world.
I have chosen the job of working in aviation (AV). I will either have the job of being an electrician on planes (AE), or a mechanic for most jet engines (AT).
My job also has the possibility of stationing me not only all over the United States, but across a multitude of countries worldwide.
Honor, courage, commitment. Some of the most important traits in my life.
The ability to show the people I've surrounded myself with how much they mean to me.
That I want to serve them. And to even, if need be, lay my own life down for them.
That's what the call to service means to me.
About the Writer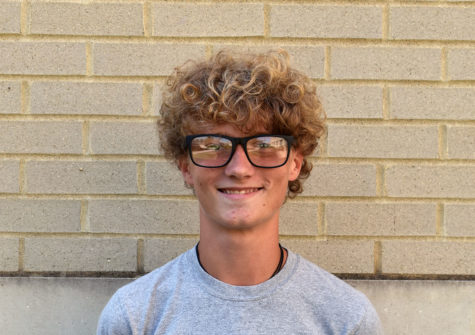 Zeke Ross, Multimedia Staff
Zeke is a Junior at GRC. He enjoys soccer, listening to music, and eating. His favorite food is pizza tacos and his favorite color is red.