With the start of the 2021 season, the Cardinals are itching for another chance at Rupp
The Region is strong this year. But hopefully at the end of the season we are holding up that Region Championship trophy again. Get ready; it should be a great year of basketball. -Coach Josh Cook
After a long-anticipated wait, the season of high school boys basketball is upon us. The Cardinals are coming off an incredible season with a 28-7 record, beating their rival, Montgomery County, in both the district and regional championship, sending them to the Sweet 16.
Unfortunately the Cardinals along with the other 15 regional winners across the state were unable to play in the state tournament after it was cancelled due to Covid-19. 
"Our focus this year needs to be on controlling what we can control if we want to navigate through this tricky season," says Head Coach Josh Cook. "My players and I want to make the best of this season. We are so blessed to be able to have it."
The Cards lost four seniors last year — KJ Rucker, Lincoln Bush, John Gwynne and Branson Webb. Bush averaged 14.1 points and 13.6 rebounds per game and Rucker averaged 11.1 points. They were all key components in the region championship run.
The loss of the four seniors will be missed, but the Cards still remain strongly intact for the upcoming season, bringing back their two leading scorers in junior guard Jerone Morton, who averaged 16.4 points per game as a sophomore and senior wing Jared Wellman who averaged 15.5 points per game last season as a junior. Wellman also averaged 5.6 rebounds a game, with Morton averaging 5.
 The Cards also bring back other key contributors from last year's team in junior wing Jeremiah Mundy who averaged 4.4 ppg, junior wing Trent Edwards (2.7 ppg), senior wing Reed Johnson (1.8 ppg), and junior wing Sammy Hernandez (1.7 ppg). 
GRC is bringing a strong junior class to the table this year with nine of the 15 roster players being juniors. This offseason they added another junior in Aden Slone, a transfer from Danville. Slone averaged 11.2 points per game last season as a sophomore and looks to fill the big shoes left by point guard KJ Rucker. 
With the Cards being wing and guard heavy this year, getting rebounding will be important for the team's success. Bush's 13.6 rebounds per game is a big loss for GRC. 
"I'm looking forward to seeing junior forward Stanley Smothers, and senior forward Dylan Gibson step up in the rebound game this year," says coach Cook, "along with some of our wings like Trent Edwards and Jared Wellman. We aren't looking for just one individual to get the rebounds; it needs to be a group effort."
With the Sweet 16 being stolen from them, the Cardinals are itching for another opportunity to play at Rupp Arena. 
"My mentality going into this season is to play every game like it's my last," says Morton. "This past year has taught me a lot. We aren't guaranteed another game so this season I'm gonna leave everything out on the court and go win another region title."
Cook's team is currently ranked 13th in the state according to the Herald-Leader pre-season poll. They are also ranked 1st in the 10th region preseason rankings and favored to win it all again this year. 
"Obviously what's on everyone's mind is Rupp," says Wellman. "Last year we got there, but unfortunately due to stuff no one could control we never got a chance to play, so this year is all about getting back there and doing something special."
The Cardinals have a tough schedule ahead, playing several top 25 teams including #4 Ashland, #6 Lexington Cathloic, #15 Scott County, and #21 Madison Central. Those teams pose a threat to the Cardinals, along with their rival Montgomery County.
Montgomery is right on the Cards' tail being ranked 2nd preseason in the 10th Region, but Cook has proven time and time again that his team will be up for the challenges that are thrown their way. 
"The Region is strong this year," says Cook. "But hopefully at the end of the season we are holding up that Region Championship trophy again. Get ready; it should be a great year of basketball." 
Leave a Comment
About the Contributor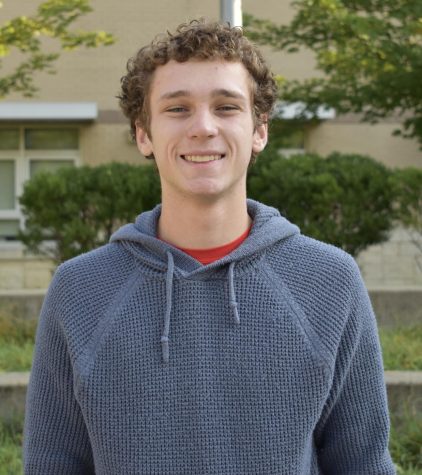 Sawyer Broeking, Sports Editor
Sawyer's biggest fear is not having someone to talk to. He thinks Whales are better than Goldfish because they are a unique combination between cheddar and fun. If he were a type of shoe, he would be a...