Colonel Alexander moving on after celebrated career
'All students who came through our program have a mentor who will always be there for them.' -MSG Larry Lee
After an impactful career spanning nearly 40 years, GRC's very own Colonel David Alexander has decided to retire. 
"I will miss the teaching and the coaching," said Alexander. " JROTC instructors are both academic teachers and athletic team coaches. We are also mentors, guidance counselors, quasi-fathers, and many other things to our student-cadets. I will miss being with them every day, the most. I will miss the daily interactions with them, both the good and the bad. I will also miss winning trophies."
His colleague, MSG Larry Lee, said GRC will most miss the Colonel's student-first mission. "Those who got to know him truly understand that he was dedicated to the success of our students," Lee said. "Every student who came through our program has a mentor who will always be there for them. Colonel Alexander has a way of getting the best out of his students. They might not like the tough love at all times, but down the road they realize it is exactly what was needed at the time. His involvement in the future success of his students was second to none."
Alexander studied business/finance and graduated college on an ROTC Scholarship. He then served in the Army for just under 28 years, and retired from active duty on July 31, 2010.
He began teaching under contract at GRC the very next day, Aug. 1, 2010.
"I always had a passion for teaching," he said. "My mother is a retired teacher and my father also spent a few years as a teacher.  Even during my military career, you find yourself 'teaching' other soldiers."
After spending a decade at GRC, the Colonel and his wife decided they both need to spend more time enjoying their lives, rather than always being heavily invested in their careers. 
"I will miss teaching the JROTC Cadets terribly," he said. "They are the reason I love coming to work each day.  I will miss our competitive teams; coaching them and watching them succeed. I will miss the amazing support that the entire GRC administration, faculty and staff provide to us."
Being as committed to his students as he was, Alexander formed long-lasting relationships with his cadets.
Though he "won't be far away," the Colonel has some wise words to leave his cadets:
"#1: Have a plan and then have a back-up plan for everything you do in life. Have a dream to follow, but be prepared for #2, which is — Don't give up….don't ever give up.  Even when life throws you a curveball, dust yourself off, get back up, and do your very best." 
He also offers some farewell remarks for his colleagues and community supporters.
"Thank you for all the support & patience," he said. "Thanks to all the staff, teachers, administrators who have supported us and worked with us. Thanks to the local community, the city of Winchester and Clark County. We have so many supporters, to include Mayor Burtner, and others. Everyone has made it a pleasure to work in an environment that has supported our program."
Of all the things Alexander accomplished over his 10-year career at GRC, he is most proud of the growth of the JROTC program overall.
"I know that the JROTC program is one of the best in the region," the Colonel said. "Our higher headquarters at Fort Knox and most of the local college ROTC programs have told us this. I know that the program will continue to thrive and grow. I think the lasting impact is that I strived every day to improve the Cadets, both mentally and physically, and that I strived to improve the overall program in every way possible."
Though Colonel Alexander is retiring, he still plans on being involved in and around GRC. 
"My love and dedication to the cadets and the program will not diminish," Alexander noted. "I will always be available to assist them as much as I can. You may even see me as a substitute teacher at GRC. You will see me at JROTC events, and you might even see me as an official at basketball or softball games. I will be staying busy. I just won't be putting on my military uniform after wearing one for over 40 years!"
Aside from staying involved in and around GRC, Colonel Alexander plans to spend more time with his wife.
"My wife and I will travel a lot," he said. "We always have since we are an 'Army Family,' but we do love to travel and see other places and meet other people."
While we're all sad to see him go, a couple of JROTC cadets expressed their respect for the departing Colonel:
"Colonel Alexander was like a parent to us, a dad to be more specific. He was always hard on us, but little did we all know it was only because he cared and wanted us to be the best. Every Raider competition and even Drill competition, despite how much he disliked Drill, he was right there alongside Master Sergeant as our number one supporter. He was the best coach, teacher, mentor, and overall leader I have had the pleasure of learning with. I couldn't thank him enough for how he has impacted my life, other cadets, and JROTC as a whole." -Taylor Hall, junior
"Colonel David Alexander has always been a large motivator to me in my high school career. It saddens me to see such an inspiration of mine and someone I could always go to retire. Colonel has always wanted no less than your 100 percent effort, and always strives to make you a better person. As a cadet of his I can speak on behalf of the whole battalion that we will never have a better SAI, but we are sincerely thankful for him and his effort to not only his cadets but the school as a whole." -Jonathan Curry, junior
At the end of this chapter in his story, and a truly impactful and inspirational career, we wish Colonel Alexander a happy retirement and a wonderful next chapter. 
View Comments (1)
About the Contributor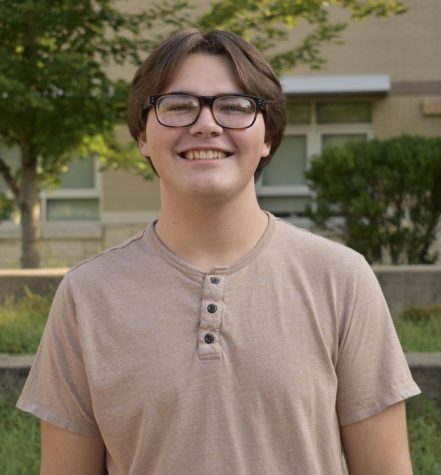 Warren Harris, Online Editor
Warren is most afraid of spiders. He thinks Whales are better than Goldfish because they just taste better. If he were a type of shoe, he would be a pair...