Teacher Morgan Price finds outlet through boxing
Boxing can be a workout and stress reliever, not just a dangerous sport.
GRC teacher Morgan Price uses boxing to benefit many aspects of her daily life.
In the summer of 2019, Ms. Price was introduced to Muay Thai boxing in Thailand where she lived while teaching English. "I loved it from the first class I took," she says, and she has continued the hobby here.
"I never enjoyed working out or going to the gym before so I never prioritized my physical health," says Ms. Price. "When I started boxing I truly enjoyed the workout and saw my physical health improve along with my mental health, too. It was fun, made me feel more energized, gave me an adrenaline rush, and gave me a greater sense of security knowing self defense moves."
Even though 2020 has offered many unusual circumstances, Ms. Price knew that she had to continue on her journey of maintaining her desired healthy lifestyle.
When her regular trips to Everybody Fights in Lexington were interrupted due to the pandemic, Ms. Price had to become strategic in planning how she was going to continue doing what kept her grounded at home.
While missing the setting and energy of the EBF environment, Ms. Price purchased a boxing bag for her home to make the best of her unexpected situation. 
"I look forward to hitting the bag because I can take 30 to 45 minutes to myself to focus on a goal," she said. "Of course, it's a great stress reliever and helps ease frustrations, but it's also just fun."
Since starting this adventure, Ms. Price has learned so much about herself. "Learning to box and becoming healthier through exercise gave me this energy and confidence that I didn't have before," she says.
Though there was a learning curve in form and technique, Ms. Price stuck it out and plans to make boxing a lasting form of exercise and mental enhancement.
"I'm no star boxer by any means," she said, "but I watched myself become stronger with every move and it was so motivating, I just had to keep going."
Ms. Price has been so committed to her boxing hobby and it has made her realize the difference it makes in her day-to-day life.
"Getting into boxing was life-changing for me because my physical health improved and I enjoyed the process," she says. "I wasn't constantly looking at a scale, counting calories, or planning workouts for different muscle groups. I was relieving stress, getting stronger, and didn't have to worry about all the stuff that society claims is fit and healthy. I could look myself in the mirror and be proud of myself as a whole, not because I lost weight or could fit into a certain pant size. There was no pressure to look perfect, follow a perfect diet, follow a perfect workout plan. I just had to show up for myself."
Anyone looking to improve their physical and emotional health should give boxing a shot, Price says. "I hope that by sharing my experience that others may give it a try and fall in love with it, too," she said. "I want everyone to love themselves and be proud of the person they're becoming and I think a big part of that stems from taking care of yourself — mentally, physically and emotionally."
Leave a Comment
About the Contributor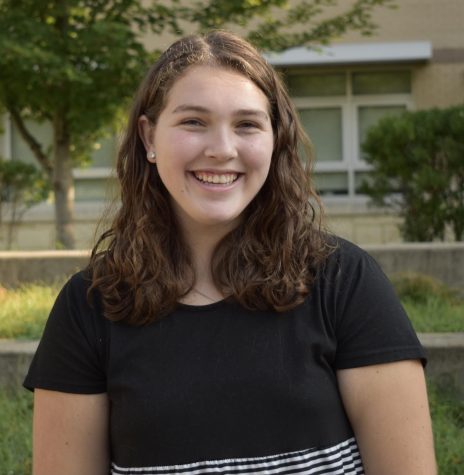 Sara Clark, Features Editor
Sara is most afraid of being kidnapped. She thinks Goldfish are better than Whales, but only the extra cheddar because taste is the most important in her...