Q&A Series: Preparing for the ACT during shutdown
Since GRC will not be offering any traditional in-person, large-scale test prep this year, several virtual options are being made available to students.
Smoke Signals staff member Sara Clark asked testing coordinator Eric Osborn and assistant principal Jill Angelucci some questions about these options.
We hope this information helps students prepare for the ACT:
Any interested student will have the opportunity to complete a self-paced, virtual ACT test prep program. These programs have been purchased by the school and will be free to any interested student. Both courses will be online and self-paced.
Cambridge Acceleprep is content based with strategies woven in. This course includes multiple online practice questions that will provide students with immediate feedback.
TorchPrep is strategy based with content woven in. This course will come with paper/pencil practice that the students will be instructed to complete at different times throughout the course.
If students would like to participate in either of these courses, they can sign-up with their English teacher or their guidance counselor.
GRC is offering these programs to juniors and seniors first and then will open them up to sophomores for any remaining spots. See flyer below for more information.
If you sign up, make sure to schedule time to actually work through the program.  Test prep is hard work, but will pay off on test day.
ACT.org also has online practice problems with immediate feedback for each section of the test that will mirror the types of questions you will see on an actual ACT.
ACT Academy is another great free resource for online practice.
Mrs. Angelucci:
How can teachers help prepare students for the ACT?
Teachers are constantly covering ACT content in their classes. Some teachers will do this directly through practice with ACT questions and others will cover material that will be on the ACT.
The best thing students can do is ask questions if they don't understand the content because understanding the material will help ensure you know how to do the problems on the ACT.
It is also helpful for teachers to go over strategies for the ACT and provide opportunities to practice ACT-type questions, as they are often written differently than other test questions.
What strategies are best to use for multiple choice questions?
There are many specific strategies that are helpful when working through the multiple choice questions on the ACT. Many of these will be covered in depth in the courses above.
Some general strategies include: eliminating answers that don't make sense, answering the questions you know first, and taking your most educated guess.
Mr. Osborn:
How can teachers help prepare students for the ACT?
I believe that if students will work hard in every class and honestly read the material given to them by their teachers, they will improve their chances on a higher ACT score.
Reading and thinking through what you read is a critical skill for doing well on any test like the ACT.
What strategies are best to use for multiple choice questions?
The questions on the ACT are not in order of difficulty, so you should go through all of the questions in a section and answer the ones that you know, especially on the math section.
Then go back and work through the ones you did not immediately know.  Remember to answer every question.  Never leave an answer blank.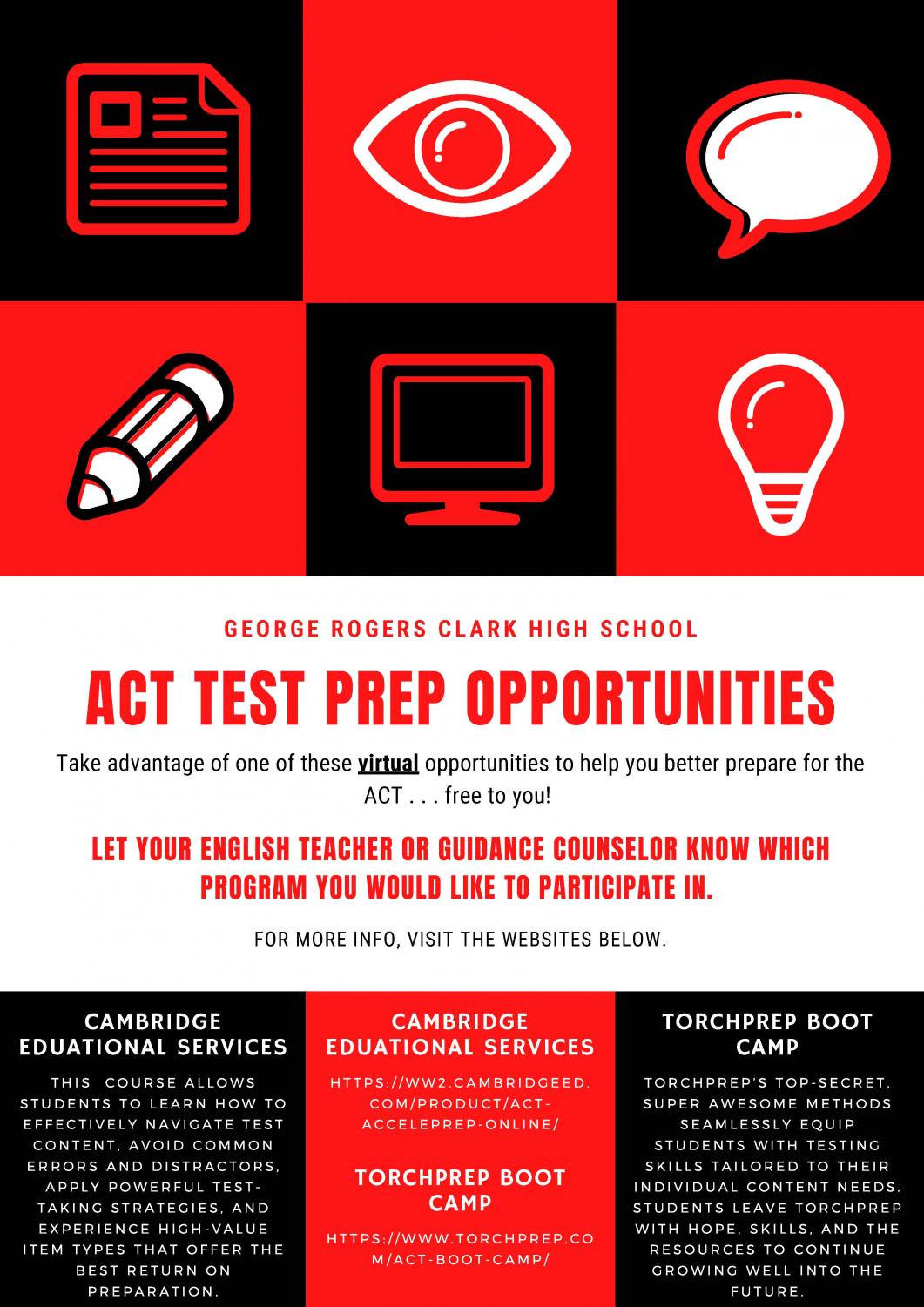 Leave a Comment