Changing our community, one bed at a time
Bedheads making a difference for students
What started as a school project, has now become a spectacular program.
Four high school boys — Christian Ison, Ryan Jackson, Joby Mitmesser, and Clay Turley — have changed many students' lives by giving them a bed to sleep on at night. 
Using donations from businesses and individuals, the boys purchase beds and deliver them to those in need. Working through the schools, the group has helped about 40 families with school-aged students since the program began two years ago. 
"I love getting to help my community by delivering beds to families in need," says Mitmesser. "It's been very rewarding."
When the boys were in 8th grade, they were part of the Student Technology Leadership Program (STLP) class, held at Campbell Jr. High School. Teacher Domonica Partin challenged her students to help out their community by using technology. The boys then took the lead.
"This group of boys wanted to work on the problem of students who don't get enough sleep at night because they don't have a bed to sleep on," says Mrs. Partin. "We have so many students who need beds and I didn't know how great the need was until the boys started this project." 
The four boys came up with a way for Bedheads to start. First, they would find ways to raise enough money to buy the number of beds needed. 
"We have held candy bar and donut sales within the community," says Mitmesser. "Also with the help of local businesses and anonymous donors, we have been able to buy about 60 beds over the past couple of years."
The group then started delivering the essential materials for the beds to each of the homes that needed it in Clark County. 
"We would bring the materials into their home and work together to construct the bed frame and make the bed with sheets, blankets, and pillows," explains Turley. 
This program was a remarkable success. The boys were even on radio stations and newscasts to talk about Bedheads. Just as the program was at its peak, COVID-19 hit and has unfortunately paused the program for several months. 
"I want this program to get going again because we haven't been able to communicate and haven't been able to come up with plans lately," Mitmesser says. "We hope that parents can allow us to help as much as possible with their struggles because we want our community to be a better place. We want young people in our community to know that they will have a good night's rest waiting for them when they get home."
The boys say their goal is to keep Bedheads going for many years to come.
"I would like to see this program continue for several years ahead, and even expand it outside of Clark County," says Ison. 
Not only has this program affected other students in the community, but it has also affected the boys themselves. They say they have a new perspective on the community. 
"I don't know what I would do if I didn't have a bed to sleep on at night," Turley says. "This just opened my eyes to how lucky I am and to not take it for granted."
Right now in this time, we need young leaders like these boys in our community. Even though this program might have started as a small school project, it is meeting a pressing need in our community.
"We have so many students who need beds and I didn't know how great the need was until the boys started this project," says Mrs. Partin. "Lots of the students in our school district live with grandparents, relatives, and/or foster parents, and these students need resources. I have changed my perspective on students who seem tired at school because I understand that they have an unmet need. I appreciate the fact that the Bedheads can fulfill this need for my students. It gives me hope for the future that there are young men like Joby Mitmesser, Clay Turley, Christian Ison, and Ryan Jackson who care so much about others in their community."
About the Writer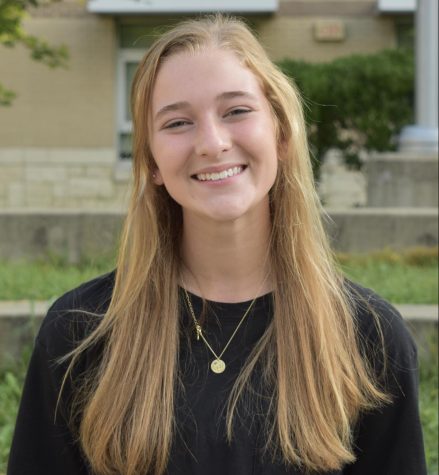 Ellie Mitmesser, Podcast Editor
Ellie is most afraid of picking a college (currently) and parking lots (all the time). She thinks Whales are better than Goldfish, of course. Whales just...