Sewing our community back together
Leeds Center for the Arts Youth Advisory Board
If this year has taken anything from us, it has taken away our connection through social interaction. Our lives feel like they've been torn into millions of pieces, and we're not quite sure how to put them back together.
Fortunately, the Leeds Center for the Arts Youth Advisory Board is bringing back our sense of community in a socially distanced, artistic way. They're taking these broken pieces, and making a quilt out of it.
Leeds Center for the Arts has been the heart of the arts in Clark County for decades. It has filled its stage with artists of all ages, entertaining packed crowds and bringing the joy of musical theater and drama to its audiences.
With the pandemic still raging, the theater has been forced to close its doors until further notice. Leeds Executive Director Tracey Miller explained why this is the time to bring back the Youth Advisory Board.
"Kids are our mission at Leeds," she said. "So that is why, in this time, the most important thing we could do is bring the Youth Board back — to give students a voice, and be able to tell stories of people who may not be able to tell their own."
The Leeds Center for the Arts Youth Advisory Board has been a part of the scene in Winchester for five years now. It is a group of high school students who spread awareness for the arts and social issues through projects during the year. 
Their current project is in collaboration with the Social Justice Sewing Academy program. Founded in wake of the murder of Trayvon Martin in 2017, this program gives students the chance to highlight an issue they are passionate about in a quilt square they design.
These quilt squares will go to an embroiderer, and then the newly embroidered squares will go to a quilter, making this a project of multiple generations. Next thing you know, all of the squares are a part of one big community quilt.  
Students' ideas cover many different topics, from racial injustice to climate change to mental health awareness.
Zach Ross, a freshman at GRC, is making a quilt square about how society treats the homeless disrespectfully and how they do not take the time to learn their stories. GRC senior Hannah Christopher is creating a square covering world hunger. 
"A big issue that arose when the pandemic started was that there were a lot of kids in our community who weren't getting food," Christopher said. "And with schools shut down, I think it is a big issue."
Not only has this year been dominated by the global pandemic, it has also brought a large racial injustice movement. Reverend Marvin King of First Baptist Church is letting the Board use the church gym to work on the project, while keeping their distance. And he explained his thoughts on the current climate of the country.
"There are certain things all of us care about; all of us care about our community, our safety," Rev. King said. "And all of us care about the future and a hope. If the only thing people can name that is different about us is the color of our skin, we have more in common than we do different."
Staying connected with each other has become a challenge in this day and age. We can only remember the feelings of discomfort and division. This project is already bringing back the lost ideas of merriment and unity.
The Leeds Youth Advisory Board is picking up what is left of our city, and sewing it back together, helping to create a new and improved Winchester.
About the Writer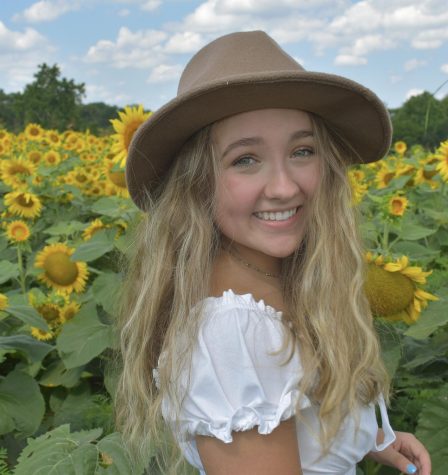 Ella Cooper, Multimedia staff
Ella, also known as Cooper Trouper, is a junior at GRC. Her favorite sound is a perfectly balanced 8 part harmony and she says the best part of waking...