Long-time GRC sports fan reflects on past, looks to future
Seventy years ago a boy was born who would one day grow up to become one of Clark County's biggest fans and supporters.
Born and raised in the heart of Clark County, Mike Poer has spent his days in a basketball gym since before he could remember.
But one gym holds a special place in his heart and that is Clark County's very own Letcher Norton Gymnasium.
Poer played for GRC's varsity basketball team under Coach Tommy Harper from 1964-1968. In those years playing he says his most memorable moment was beating Bourbon County for the Mid-State Conference title during his junior year season.
Through all the years Poer has been in Clark County, he says he has gotten to watch so many great teams and players go through Letcher Norton Gym.
"I got to see the first girls team that played in Clark County as well as the 1981 girls team that made it to the State Tournament and was #2 in state," said Poer.
Poer also mentioned getting to watch Preston Knowles during his high school career. He said Knowles, who went on to play at the University of Louisville, was one of the most memorable players he has seen play in GRC's gym.
In addition, Poer enjoys the fact that he has gotten the opportunity to see four of his granddaughters play in the same gym he spent his high school career in.
Letcher Norton Gym has brought so many great memories to the community of Clark County.
Poer says that one of his coolest experiences the gym brought him was the opportunity to play Pete Rose and members of the Cincinnati Reds in an exhibition game with some of Poer's former teammates.
Poer takes pride in his hometown and gives support to many of the teams at GRC.
"Clark County is my home and always has been," says Poer. "You want to support all the student-athletes who worked just as hard as you did to play for GRC."
With everything that Letcher Norton Gymnasium has brought to him and Clark County, Poer says he is very excited to get to experience the new gym and what it will bring to the community.
"It is a showcase for the community, something everyone can be proud of and will want to see," he says.
Like many others, Poer believes it is past due for Clark County to have its deserved gymnasium.
Although Letcher Norton Gymnasium will always have a special place in Poer's heart, he is ready to make room for the new.
"When the kids nowadays were still playing in the gym I played in 55 years ago," he says, "it was obviously time for a change."

About the Writer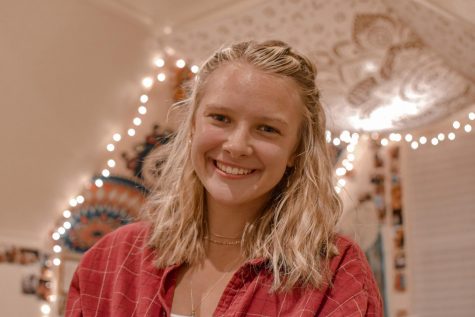 Cameron Anderson, Multimedia staff
Cameron, also known as Swaggy C, is a junior at GRC. Her favorite sound is metal cleats on concrete or thunderstorms and she says the  best part of waking...