Athletic facilities edge closer to completion
As GRC's total campus edges closer to becoming reality, exciting developments have been made in the facilities.
The columns at the football stadium have been wrapped in stone, and all the stone work on the stadium is completed. The turf is also in production, and installation "should begin in a month or so," according to Project Manager John Hagan Codell.
The football stadium is expected to be completed around the beginning of July, which means that the Class of 2020 will not only be able to graduate in the stadium, but will experience football games in its impressive atmosphere as well.
As for the arena, the concrete for the gym floor is poured, most of the first-floor interior walls have been erected, metal studding on the upper deck has begun, and 90 percent of the structural steel work is complete.
The gym's completion is expected around the end of December, so the 2019-20 basketball season will not begin in the new gym, and the 2019 volleyball season will not be in new facilities at all.
"Now that they're pretty much under roof," said Principal David Bolen, "there shouldn't be any more weather delays. That's what we're hoping for."
Foundations for the fieldhouse were completed on April 17, and work has begun on under slab electrical and plumbing.
The fieldhouse, along with baseball and softball fields, are contractually set to be finished next summer.
In March, the Board of Education approved the designs for the turf field and the basketball/volleyball court.
Both will have the school's Cardinal in the center, with the field having "GRC" on both 20-yard lines and the court having "Cardinals" printed down the baseline and "GRC" at the free throw line.
The bleachers in lower arena will be black with "GRC" in red, while the upper arena bleachers will be red.
Big things are happening in Clark County, and the total campus is becoming more of a reality every day.
About the Writer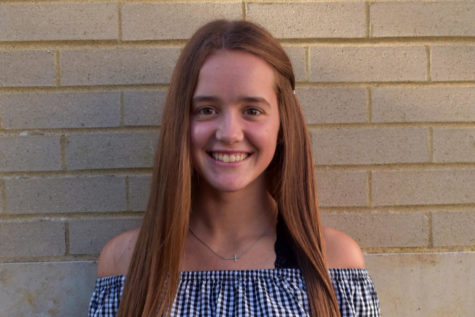 Savannah Anderson, Editor-In-Chief
Savannah Anderson is a Senior and second-year Smoke Signals member. Her favorite animal is a puppy, her favorite movie is Breakfast at Tiffany's, and...