Winter Guard Returns After Four-Year Hiatus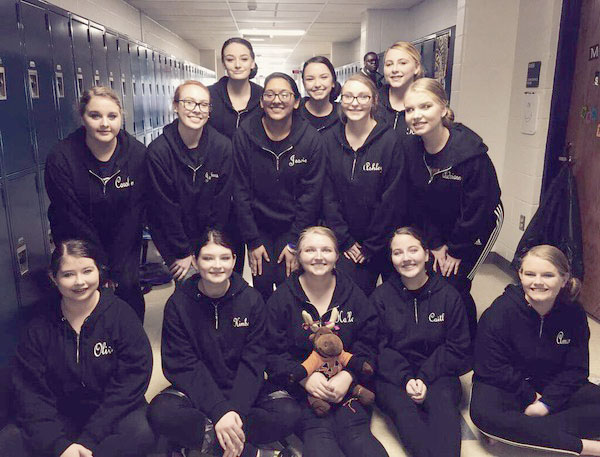 True teams are made when individuals put aside differences and work together towards collective good.
For Winter Guard head coach Katie Griffith, the sport is so much more than competitions and championships: it's all about community. 
"Anyone who knows me, knows that I do not like to lose," says Griffith. "I want this program to be successful, but more important, I want guard to be a group where everyone can fit in."
This is the first year since 2015 that GRC has had a Winter Guard.
This year's show is called "Not the Roses" and the song is "Seller of the Flowers" by Regina Spektor.
 Color Guard is a combination of the use of flags, sabers, mock rifles, and other equipment, as well as dance and other interpretive movement.
Winter Color Guards can be found in high schools, middle schools, universities, and other independent organizations, some of which are related to drum corps. 
 For its first competition, GRC performed at Pulaski County High School and received second place (out of four guards). Their next competition is at Bryan Station on March 2.
Competition season started in January with a contest in Waynesville, IN. Because they are a part of the Tristate Marching Arts organization, their season will end the last weekend in March with the championship.
"I like Winter Guard because of how nice and friendly everyone is," says Caitlyn Sutton, Winter Guard member. "You're just surrounded by guard people, and the environment is so supporting. If you were to blow up the entire show, you'd still be supported." 
 Most people are familiar with divisions for major sports teams. In Winter Guard, divisions are based upon the Guard's abilities. GRC's guard is in Scholastic A-2.
By getting closer and building a stronger community with each other during the off season for Winter Guard, the girls will help to bring home more awards during next year's marching band season. 
 "I'm looking forward to seeing the girls open up to each other," says Griffith. "If there is one thing that Guard in general has taught me it's to be myself 100% of the time. There's not another 'me' out in the world, so I have to be who I am. Teaching that aspect to high schoolers is tough. The girls have done a wonderful job at taking that and running with it. So many girls have opened up and it's great to see."