Athletic facilities drawing closer to completion
Hang on for a minute...we're trying to find some more stories you might like.
The fourth of July – a time for fireworks, friends, family, and celebration.
On Independence Day 2020, there may be cause for even more fireworks and celebration.
Construction of the entire athletic complex, including the gym and all fields, is set to be completed by July 4, 2020.
However, the relenting rain and cold weather may play a large role in whether or not this date is reached. 
"We've lost 64 days to weather," Project Manager John Hagan Codell said earlier this month, "which is more than three months of work time."
The completed gym roof puts the state-of-the-art facility closer to completion, allowing crews to work in any weather. Codell raved about the gymnasium, which will seat 4,300 people.
"The big eye catcher is the steel that will be exposed in the gym," said Codell. "The steel beams were too large to truck here so they had to bring the pieces here, build them on site and then set them."
In addition to the exposed trusses in the ceiling, the gymnasium will be large enough to be classified as an assembly. This means that other acts can play or host events in the building. 
However, with the new classification the crew must also take extra precautions.
"Everything in that gym has to be fireproofed, everything fire-sprayed," Codell said. "Even the steel columns inside the walls have to be sprayed before the block can be laid around it."
In addition to the new classification, the gym will push both the boys' and girls' basketball programs forward in several ways.
"The new gym will definitely boost our program as we will finally have a gym we can call our own and finally have a true home court," girls' basketball coach Robbie Graham said. "Our players will step into that arena with great pride and great joy."
The gym will certainly be something to behold, bringing the entire community together, allowing even for major tournaments to be held there.
"The new gym has a chance to be the nicest high school gym in the state of Kentucky," said boys' basketball coach Josh Cook. "What kid wouldn't want to play basketball at GRC? For our players to have the daily opportunity to play in a first-class facility, this can really push our basketball program to the next level."
The football field has plenty of high level technology included as well, some of which not even major NCAA programs have.
"One thing going into the field is a shock pad that is below the surface," said Codell. "Even UK doesn't have it on their field."
The stadium also includes locker rooms for players and officials, ample storage space, concessions stands, and a state-of-the-art scoreboard/big screen.
"The new complex will greatly enhance our program to be on par with surrounding competitors' facilities," said football coach Dr. Oliver Lucas. "It gives us a leg up on excellence and a notable face-lift."
However, the stadium isn't only for football. There will be a track surrounding the field with high jump and long jump in the end zone sections. 
The old high school track does not meet requirements to hold regulation track events.
"For 20 years, I've been carrying equipment around, taking hurdles back and forth out of my car," said track and field and cross country coach Dodd Dixon. "It's a lot of running around and having facilities to source that will make it a whole lot easier."
The tennis courts, which are part of Phase 2, will be the last thing constructed. Currently soil and other materials are being stored in the spot where the courts will be.
The Phase 3 designs, which include the field-house, the baseball field, and the softball field, will begin construction sooner rather than later. 
"The field-house will start first, as soon as we get a few good weather days," Codell said.
Phase 3 is set for completion in the summer of 2020, which will be about a
14-month duration.
However long the wait may be for final completion, fans can expect nothing less than the best. 
"I'm a GRC graduate myself," said Codell. "I've been bragging to all my friends about this complex."
Being from Winchester, Codell says that he and his staff "want to do a really good job," and that the project "gets a lot of extra attention."
"It's going to be one of the best, if not the best facility in Kentucky," said Codell. "It'll absolutely be the best one around."
About the Writer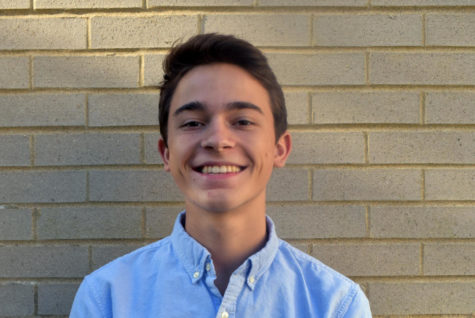 Nick Hounshell, Editor-In-Chief
Nick Hounshell is a Senior and second-year Smoke Signals member. His favorite animal is a lemur, his favorite movie is Arrival, and he is on the golf team...