New counselors setup benefits students in designing their futures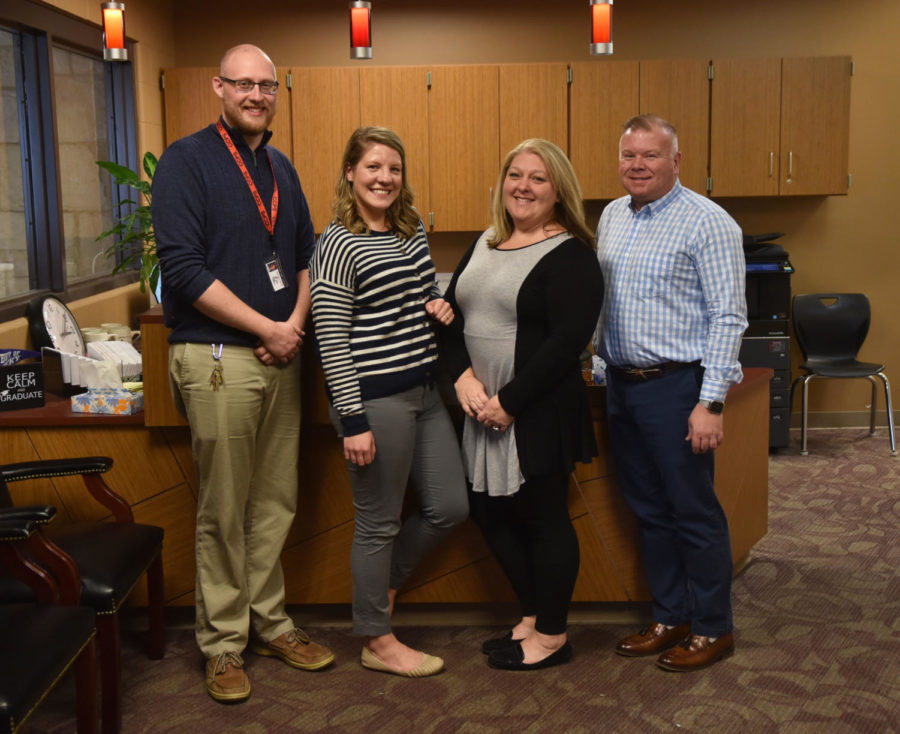 "The times they are a-changing."
The second semester of the 2018-2019 school year is starting out with a bang as the new guidance office arrangement takes effect.
Mrs. Childers is the new freshman counselor and will be working to help settle incoming students into their first year of high school.
Childers attended Morehead State University for her undergraduate degree and EKU for her master's. She completed her internship at GRC, so she is familiar with the school.
"I like working with freshmen because it's their transition year," says Mrs. Childers. "My biggest goal in working with them is to see their growth over the year and to have them know that they have a safe place to come if they need it. I want to see them be successful not just as freshmen but throughout their high school career."
Mr. Daniel, who many may know as a teacher of civics, Bible, and law classes in the freshmen wing, will now be the counselor for sophomores.
"The transition from classroom to counseling has been a little overwhelming, but everyone in the administration and counseling office has been great in helping me," says Daniel.
Another helpful part of Mr. Daniel's position is that he had several of the students he will be working with as students in his class their freshman year.
"The great thing is that I already have a relationship with some of the sophomores because I've had them in class," says Daniel. "For those I haven't, I'm looking forward to meeting them."
Mrs. Mink, who was previously the ninth grade counselor, is now working with juniors as they begin applying for scholarships and getting things in order for their last year of high school.
"Working with the junior class has a special place in my heart," says Mink. "The class of 2020 was my first group of students when I transferred to GRC. Working with them their freshman year and then working with them again as juniors has allowed me to see how much they have grown over the last couple of years."
Preparing juniors for their senior year is an important job, but
Mrs. Mink is ready to help the 11th graders succeed.
"Some of my goals this year include making sure that the juniors know where they can seek advice, a listening ear, and support if needed for their mental health needs," says Mink.
"I also want to ensure they have access to scholarship information, exposure to multiple post-secondary options, opportunities forbusiness internships, and ensuring that all students are on track for graduation."
Mr. Little, who was the junior counselor last year and the first half of this year, is now the counselor for seniors as they make their post-secondary plans.
Mr. Little's priority in being the senior counselor is offering support to his students as they make the transition from high school to adulthood.
"My biggest goal in helping seniors is to know them," says Little. "If you come to visit, then you will see that I truly care and will work hard to get you where you want to be. I may not always know the answer, but I sure will burn trails to find someone who does."
Although the arrangement of the guidance office is different now, it's clear that students will have the same help, support, and advice from their counselors needed to create an enjoyable high school experience and bright future.