Girls' Basketball Looking to Continue Legacy of Excellence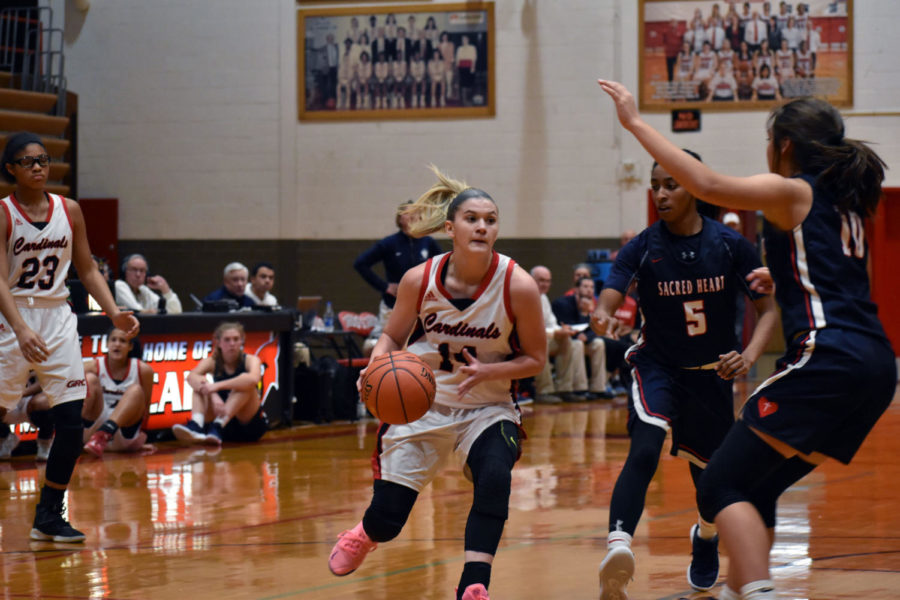 Build a team. Practice the sport. Play the game. Continue the legacy.
GRC's girls' basketball team is constantly reaching for new heights from previous impressive seasons.
The Lady Cards' season began in late November, carrying with them the epic title of number two team in the state.
The players themselves were shocked by this prestigious honor.
"I knew we would be ranked high," said senior Maleaha Bell, "but I didn't know it would be that high."
While this ranking may seem to put pressure on the team, it fades when "the game starts," said Bell. "The pressure just goes away from us."
Also easing this pressure are the commitments players have made to colleges already.
Seniors Jasmine Flowers, Hayley Harrison, and Maleaha Bell have signed to play with the University of the Cumberlands, University of Tennessee at Martin, andEastern Kentucky University. Junior Kennedy Igo has also committed to Northern Kentucky University.
According to Bell, this allows the players to enjoy their season, knowing they still have a future in basketball in the upcoming years.
The players have also built a chemistry with each other, strengthening their game.
"We've been playing together for a while now, so when we get on the court, we know one person's strengths and weaknesses," said Bell. "When one person doesn't have a strength, someone else knows to fill it."
The team also spends an impressive amount of time together with pre-season conditionings, practices sometimes seven days a week, and games scheduled all throughout the winter.
"We spend more time with each other than we do with our actual families during basketball season," said player Kennedy Igo. "It brings us a lot closer together than most."
With being ranked number two, the team has an obtainable goal of not only playing in the state championship game but winning the state tournament as a whole too.
They are working so hard to the point where the players are "immune to being tired," according to Igo.
The Lady Cards have one regular season game before the end of 2018, but they are also competing in tournaments in Franklin County and Greenville, TN over Christmas break to challenge themselves even further.
You don't want to miss what appears to be another legendary GRC girls' basketball season.