Christmas Craze Distracts From True Meaning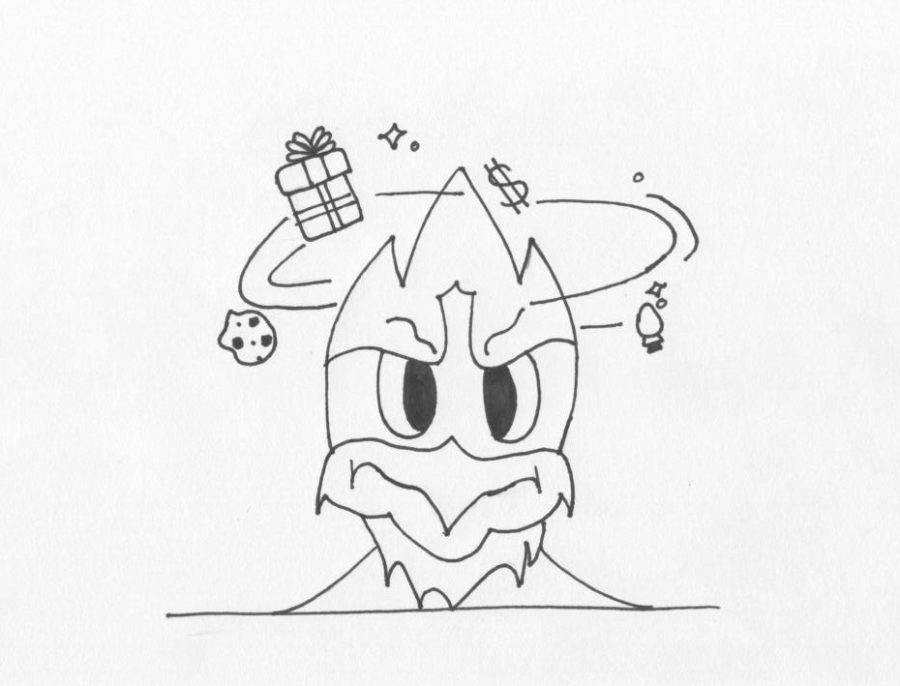 Christmas is a time for celebration, loved ones, and spreading cheer.
Christmas is also a time for stressful shopping, family fighting, and failed recipes.
Often, the spirit of Christmas becomes twisted in the quest to make the holidays perfect.
For children, it seems Christmas is a magical wonderland of festivities and presents. However, most people have early childhood memories of their parents complaining about the approaching holidays.
As children grow older, most get their first taste of helping to actually produce Christmas functions, whether it's cooking, preparing the house for visiting family, or buying and wrapping presents.
As we take on this responsibility, it becomes apparent why our parents have always complained about the holiday season: they're overwhelmed.
The tradition of Christmas is one close to the hearts of Americans, for it is a time
to eat, drink, and be merry. However, it is most importantly a time to spread the spirit of Christmas to others.
In the excitement of trying to make Christmas memorable, it is possible we become too wrapped up in our own problems and wishes to remember there are others we should be thinking about.
In reality, isn't Christmas about unity? It means taking time to set aside our own interests and working to make as many people as possible feel loved and supported at Christmas time.
Although some may graciously give money or time to charities, it is incredibly easy to offer help in passing, instead of extending a hand or smile to people in our communities.
This is partly due to the growing commercialism of holidays. For the last two months of the year, it seems impossible to escape the repetitive cycle of Christmas advertisements.
With the increase in the Christmas market comes a more idealistic, manufactured vision of Christmas. Thus, the pressure intensifies to create the perfect holiday. We think we need what is being sold to us.
This atmosphere fosters a flurry of panic to buy the best presents on the market and have the most ornate decorations in the neighborhood.
While shopping and decorating is fun, Christmas is more importantly about remembering our own blessings and spreading cheer to others.
This may mean inviting someone who is spending Christmas alone to a family dinner or visiting with people in shelters and hospitals. It could also be as simple as offering a greeting or wave to people we encounter.
Spreading cheer is doing whatever is necessary to bring a sense of happiness to others.
This holiday season, continue to enjoy your favorite Christmas traditions. But, instead of getting caught up in the stress of Christmas shopping and family drama, keep in mind the true meaning of this holiday.
And maybe with each wrapped box you give, you could also offer the opportunity to spread happiness to someone else, because that is truly the best gift anyone could receive.