Girls' Soccer Not Letting Youth Hinder Their Season Goals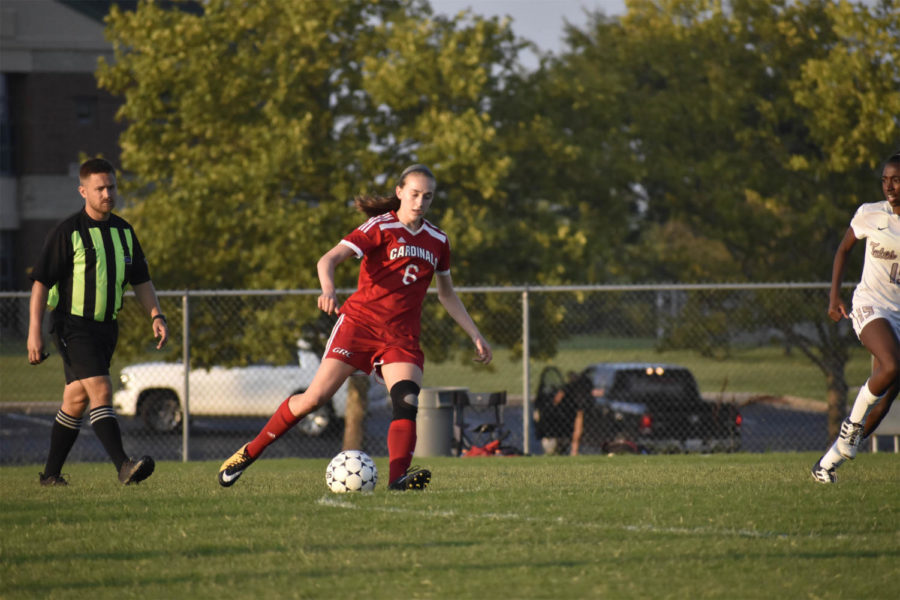 When a team graduates nine seniors and only ends up with three in the next year, many might say that the team has no chance against a tough schedule. 
The girls' soccer team says otherwise. 
"A young team is easier to coach than a team that's older," says senior goalkeeper Brooklyn Johnson. "They get to look up to us seniors and realize the tough games shape the team we're going to be." 
Sophomore starter Julia Pohl realizes the need to "shape" this young team. 
"My biggest priority this season is to become a better player and work together more as a team," she says. "We have a lot of individuals with amazing skills, and if we can learn to play more together, I think we can beat any team we come up against." 
Pohl's belief that the team has the potential to defeat any opponent that comes their way translates to her goals for the season: win District, win Region, go to State. 
Although the "team is very new playing together" considering the loss of nine seniors from last year, Pohl believes that their goals can be accomplished as the team is "very good at listening to coaches and making adjustments." 
While Johnson also
believes in her team's ability to succeed in the postseason, her main goal for this season is to truly be a team.
"The more we play and act as a team, the better we'll be and the better
opportunities we'll have," she says. "Winning and losing don't matter because that's what makes us who we are." 
"Who they are" has shaped up to be a winning team, as the girls have fought their way to be ranked number one in the 40th District.
This fighting will
continue in early October when they attempt to bring home another District title.