Get Rowdy Crew: Then and Now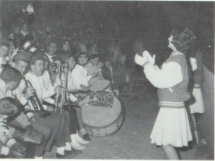 Hang on for a minute...we're trying to find some more stories you might like.
Touchdown! Home run! Goal! The Cardinals win again, and the sea of red, white, and black is going wild!
The student section at GRC, known as the Get Rowdy Crew, is an upbeat environment that is full of chants and cheers to keep the crowd and our athletes hyped.
Throughout the years at GRC, there has been a large involvement of students at most of the home games of any kind. Past yearbooks from as early as 1964 and as recent as 2018 showcase students gathering to support the Cardinals.

"I graduated in 2006, and the football team was especially good that year," says Mr. Cunningham, a teacher at GRC. "We were not called the Get Rowdy Crew at that point, but there was a lot of excitement that year."
Mr. Cunningham also recalled that the student section was moved to a larger section of the home bleachers due to the fact that there wasn't enough room for everyone.
"Getting Rowdy is getting hyped and being the team behind the team, game after game!" states a yearbook quote from 2011 Sophomore, Jennifer Berryman. The student section received its current name around 2011 based on photos and captions from the yearbook that year.
Despite not being called "Get Rowdy" for a long time, the student section has always shown an immense amount of support for its student athletes no matter the sport. GRC students, lets keep it rowdy!