This summer, the Cardinal football team polished up their battleaxes.
As Abraham Lincoln once stated, "Give me six hours to chop down a tree and I will spend the first four sharpening the axe."
The coaching staff found this quote applicable to the work the team put in during the summer.
"Our players have embraced that role of really taking the time and effort to better their game as individuals and as a unit," said Head Coach Joe Chirico.
Chirico credits distinctive team attributes to the hours and management in the weight room.
"Our team built character throughout the off season in our weight room workouts with Coach Tackett," said Chirico. "He is our head strength and conditioning coach and puts a lot of time and effort into his programming for our players. These workouts are structured to put each player in an uncomfortable position with their 'backs against the wall' and each player has to lift each other up and find a way out, metaphorically speaking."
Outside of the weight room, the offense has been working with Coach Ray and Coach Franklin to tweak specific parts of their game.
"They would come in at 6 a.m. three to four days a week to work on position groups and the little details to make each of them better," said Chirico.
To put these practiced concepts into action, the team competed against the state's top teams in seven-on-seven/big man challenge events as well as GRC's team camp.
"Team camp is a four-day event that we have here at school," Chirico said. "There is no technology, no outside noise, just our players and staff working to better our program."
After a loss on opening night at Cardinal Stadium, the football team secured an astonishing win in the Pike County Bowl to hand Belfry their first loss of the season.
In this game, one of the major momentum builders was the 25-yard reception by freshman Haddon Cecil, his high school career second. The risky play was accredited to trust between junior quarterback Sam Clements and Cecil.
"I knew I had to make a move and trust Sam to get it to me, but it was a great feeling when I pulled it in," Cecil said.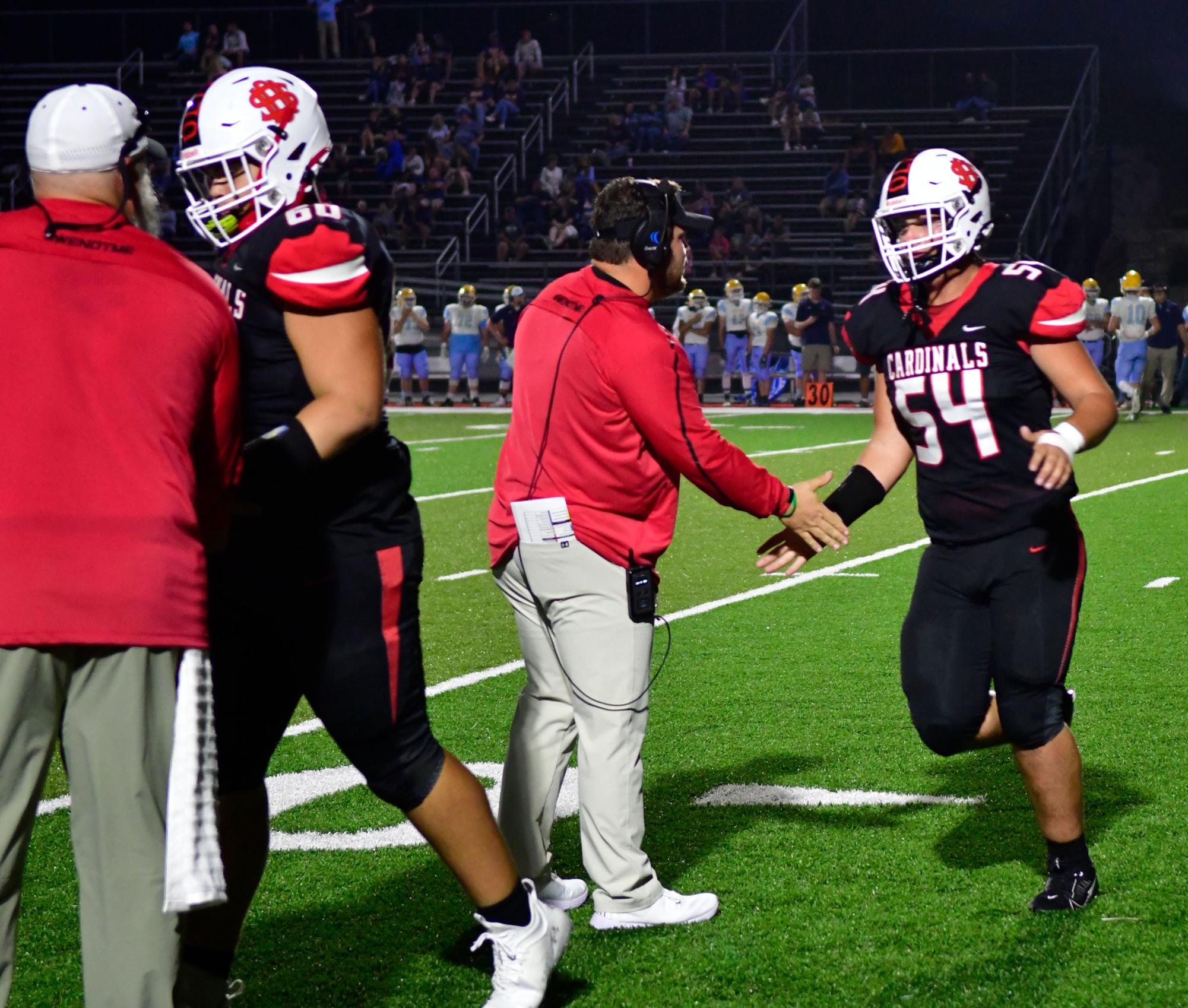 The defeat over Belfry caught the attention of the community and impressed fans across the region.
"Last week's game was a huge win for our program!" said Chirico. "Our kids went into that game not given a chance to win. We did a good job of blocking out the noise and just going to work."
The upperclassmen have worked to utilize previous football experience to effectively communicate with the younger players who have a vital role on offense.
"The older guys and I reiterate to the young players to ignore everything outside of the white lines and focus on doing your job to the best of your ability for 6-8 seconds at a time," said Clements.
This week, the Cardinals return to Cardinal Stadium and will face Pulaski County. Both teams are 1-1.
"Our team will prepare for this Friday's game with the same approach we take each week, focusing on us and correcting mistakes that we have made over the course of the last two weeks," said Chirico.
During the season's start, the Cardinals have taken in lots of information. With two games under their belt, the team has a better understanding of factors that will play a significant role in the final score against teams like Pulaski who occupy a high level of gameplay and physicality.
"Starting the game fast and ball security will be critical this week," said Clements. "Pulaski has a good squad, but as long as we execute our jobs and play until the echo of the whistle, I expect us to come out on top."