Monday Minute makes a splash
Editor's Note: This story first appeared in our May print newspaper dedicated to seniors.
"Happy Monday GRC!" blesses many ears every Monday as Smoke Signals' staff member Claire Ginter explains what's happening at our school. 
With her enthusiasm and charm, what might seem like a mundane minute-long video has transformed into one of the most widely talked about productions from Smoke Signals.
"I am honestly shocked with the amount of views Monday Minute gets weekly," says Claire. "I never thought so many people would look forward to watching me talk about upcoming events for the week."
With this boom of Monday Minute lovers, Claire has even been recognized in public as the Monday Minute girl. This only shows how much attention the Monday Minute truly has. 
"I have had so many people in the community come up to me to compliment Monday Minute," she says. "People come up to me to shake my hand or pat me on the back, and usually end up complimenting the Smoke Signals program as a whole. Not only do Clark County people come up to me, I have people from surrounding counties talk about how much they love Monday Minute. That seems so surreal to me that people who are not involved at GRC or even Clark County would look forward to seeing me talk every Monday."
Mrs. Crosby has had the idea to do a Monday Minute for a while, and when Claire Ginter came to GRC her senior year, Crosby knew she was the one to make it happen.
"Something similar to Monday Minute has been an idea of mine for many years and then when a unique talent like Claire showed up I knew it was time to do it," says Crosby.  "It's very unusual for a high school student to have such a presence, along with the composure, poise, energy, and communication skills to be able to pull something like this off. Claire is the perfect fit."
The Monday Minute isn't only Claire, though. There's a team behind the Monday Minute that includes a videographer, as well as someone who holds up cues behind the camera. Ruthie Houston is usually the videographer, and Allie Randall usually holds the cues. 
"I love working with Claire and Ruthie every week," says Allie. "We have so much fun filming this and I have loved watching this series grow." 
This dynamic trio is able to work every Monday, making sure in one minute the video is Smoke Signals' motto: to educate, entertain, and engage. And the Monday Minute definitely fits. 
"I love videoing Claire because her spirit is so contagious," Ruthie says. "We always have a blast behind the scenes because of Claire, and it is just so cool to be involved with a project that has become a staple in a lot of the community's Mondays. Filming the Monday Minute is probably my favorite part of the week."
Hold on to those widely loved videos, as everyone knows all the best weeks start with Monday.
"I am so incredibly grateful to have been chosen to be the Monday Minute girl," says Claire. "I have so much fun doing it every week, and one of my favorite parts is reading all of the comments on our social media accounts. I am also thankful for the experience it provides as I get ready to go off to college for broadcasting. Thank you to all the people who spend a minute with me every Monday." 
Leave a Comment
About the Contributor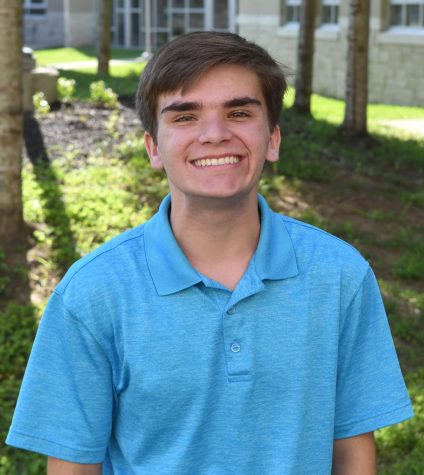 Daniel Graves, Managing Editor
Daniel likes Don Señor because all his friends love it, and they always go there. He would live in "Doctor Strange in the Multiverse of Madness", only because Wanda Maximoff is her best self in it....