The Gen Z impact
Generation Z has made a huge impact as they start turning from kids into young adults. The public eye has turned to young celebrities, depending on their influence and impact.
These seven Gen Z leaders have made it their mission to show that you can never be too young to make a difference in the world.
Millie Bobby Brown
Most people know Millie Bobby Brown for her portrayal of Eleven in Stranger Things as well as Enola Holmes in Enola Holmes. However, Brown also has a few more accomplishments under her belt. She is the youngest ever UNICEF (United Nations International Children's Emergency Fund) Goodwill Ambassador as well as being the youngest person to ever be featured on Time Magazine's 100 most influential people. 
Naomi Osaka
Being the first Asian tennis player to hold the top spot in singles is an incredible feat by Naomi Osaka. However, that's just where her journey begins. The four-time Grand Slam singles champion is also the first elite sportswoman to establish and take full ownership of her own sports agency, 'EVOLVE.' The only two athletes who have done this before are LeBron James and Roger Federer. Osaka has also raised an upward of $50,000 in efforts to help rehabilitate the island nation of Haiti after it endured a 7.2- magnitude earthquake that killed 1,297 people.
Jaden Smith
Being the son of famous parents, Jaden Smith has been adamant about making his own splash in the world. Jaden has co-founded JUST  Water with his father, Will Smith. JUST Water sells mountain- sourced spring water that utilizes rain and snowfall stored in a watershed. Jaden has also established a vegan food truck that hands out free food to the homeless people on Skid Row in Los Angeles. Giving the opportunity for the poverty stricken, Love You Restaurant has traveled all over LA as well as going to Harlem to give the homeless a vegan food option.
Zendaya
The former Disney Channel star has certainly shaken up the entertainment industry with her portrayal in large-scale movies and TV shows such as Euphoria, The Greatest Showman, and Spider Man: Homecoming. Along with being an award-winning actress, Zendaya is also an ambassador of Friends for Change, an organization that encourages kids to look at the positive things they can do in their community and for the planet. She has also been an advocate for Convoy of Hope ever since the Hurricane Sandy catastrophe in 2012. 
Malala Yousafzai
Malala Yousafzai is a Pakistani advocate for educational justice. Her father raised her with the same educational expectations as the boys in the village, sending her to school. But when the Taliban came and banned girls from going to school, Malala took matters into her own hands and still attended university. After she graduated, she made it her mission to gain equal education for everyone, and continued her battle even after being shot in the head. Malala became the youngest person ever to win a Nobel Peace Prize for her efforts to secure equal education.
Maxwell Frost
Maxwell Frost has definitely turned heads this past midterm election, as he gained the recognition of being the first Gen Z elected to congress. Winning his election in Florida's 10th Congressional District, Frost believes that having a member of the younger generation will make the government more diverse and able to advocate for all types of people. Havig ideas about making campaigning and voting more accessible, Frost plans to use his congressional power to take a step in the right direction regarding difficulties within the government. 
Gitanjali Rao
Gitanjali Rao is an American inventor who is known for receiving the title of America's Top Young Scientist in 2017 for her creation of a patent-pending device that is able to detect lead in water faster than any other device, which then in turn helped the residents of Flint, Michigan find clean water.Gitanjali has also been honored on Forbes 30 Under 30 for her scientific efforts as well as being named the STEM Scout of the Year. Having created an anti-cyberbullying service that used AI, Gitanjali received a grant to implement the solution. She is currently working on a solution for prescription opioid addiction using genetic engineering and  discoveries from her AI app. Since her breakthrough with the lead-detecting device, Gitanjali has been able to open-source her AI codes and prescription opioid detecting app which has helped major scientific organizations find efficient and viable solutions for real world problems.
From scientific discoveries to being global ambassadors of charities, these famous Gen Z'ers are truly making a difference regarding things they care the most about. 
But you don't have to be a celebrity to make a difference. Whether it's by volunteering at the local animal shelter and organizing a clothing drive for the homeless, the opportunity to change the world presents itself everywhere you go.
Leave a Comment
About the Contributor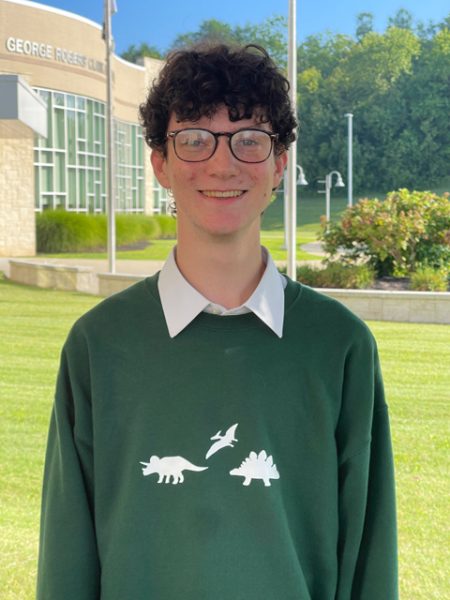 Zach Ross, Features Editor
Once upon a time, a baby was introduced into the world. Fast forward 17 years, and you may find that this baby has grown into being a very talented, amazing, and awesome Features Editor. That baby grew...