Putting art back in our hearts
Cohort Winter Showcase is Thursday
The tambour of a heartwarming duet. The elegance of a ballerina's dance. The artistry of an actor's cadence.
Art is more than just a part-time ordeal; it's in every aspect of our lives.
GRC Fine Arts Cohort accepts that ideal with open arms, giving student artists the outlet to truly express themselves.
The Cohort Winter Showcase takes place on Thursday, Dec. 16, at 6:30 p.m., displaying everything from a one act play to an art gallery.
Cohort usually has two showcases each year, like an artistic celebration for the end of each semester.
This year, the program hosts its first in-person Winter Showcase since the beginning of the pandemic.
The program extends to host three different artistic majors — drama/dance led by Mr Lawwill, vocal and instrumental music led by Mr. Olson, and visual art led by Ms. Fuller. During 8th period, Cohort ensures that students end their school day doing something they truly love to do. 
"It's nice to be exposed to new people and new teaching styles," says senior Emma Hackworth. "It really helps me improve my artistry."
A vocal music major, Emma has participated in the Cohort program all four years of her high school career. From participating in the school musical to attending GSA, Emma owes some of her credits to Cohort. 
"I think being in Cohort helped me when I got to GSA in terms of already having a theater class," says Emma. "I know most schools don't have a class and we are really fortunate to have this program."
Cohort doesn't just allow an outlet for singers, though. Junior dance major Chloe Galloway has been able to choreograph a duet with her sister for the Winter Showcase.
"We're dancing to a piece called Chairman's Waltz," says Chloe. " I don't normally get to work with my sister so it's nice that we can come together and share the spotlight."
The showcase starts at 6:30 p.m., but an art gallery will be open for a walkthrough at 6:00. The visual art majors have created all the contributions to the exhibit, and while they may not get up on stage and perform, their art speaks for itself.
"I love how Cohort gives the chance for all these artforms to come together," says junior Charlee Wesley. "Whether it's visual or performance, we appreciate one another."
Through stress and confusion of the winter seasons, art has become an outlet for reassurance.
Come out and support the fine arts program at GRC at the Cohort Winter Showcase.
Leave a Comment
About the Contributor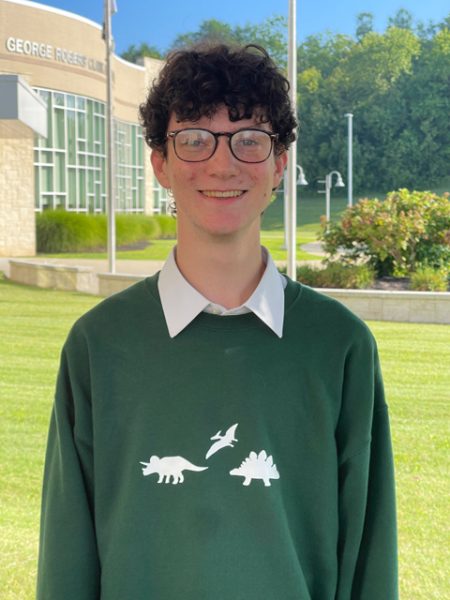 Zach Ross, Features Editor
Once upon a time, a baby was introduced into the world. Fast forward 17 years, and you may find that this baby has grown into being a very talented, amazing, and awesome Features Editor. That baby grew...