Wednesday: Is it worth your while?
They're creepy and they're kooky. Mysterious and spooky. They're all together ooky, the Addams family.
The Addams Family has been resurrected through the twisted and mysterious mind of Tim Burton. Wednesday, a new TV series following Wednesday Addams, retells the spooky stories of this beloved family. 
After Wednesday was expelled from several different schools, Gomez and Morticia Addams decide to send her to their alma mater, the school where they met. Nevermore, a boarding school for outcasts and oddities, proves to have its handful of mysteries.
With a helping hand from both outcasts and normies, Wednesday turns into a super-sleuth to investigate the mysterious murders happening in the nearby town.  
Peeling back all the layers of Wednesday's dark and gloomy personality, Burton's new muse, Jenna Ortega, portrays the character perfectly. Navigating Wednesday through a  tenderly complex relationship with her mother to the socially awkward aspects of being the new kid at school, Ortega's performance shines a new light onto the character that we otherwise know and love.
Having come from a Disney Channel background, Ortega's take on Wednesday makes you forget all about her Disney days. Working with many talented actors, such as Catherine Zeta-Jones, Gwendoline Christie, and Luis Guzman, Burton was able to make an unforgettable series.
However, the show isn't entirely perfect. While there are amazing special effects regarding werewolves, Thing, and other ghoulish creatures, the CGI monster looks more humorous than scary.
Regardless, the show has included nostalgic features from many other scary films. By having the red paint allude to Carrie or bringing back the Wednesday from the 1991 Addams Family film, Burton was able to take classic concepts and turn them on their head.
This new TV show that debuted last Wednesday is proving to be a rapid hit and for obvious reasons. Watch season one of Wednesday now, streaming only on Netflix.
Leave a Comment
About the Contributor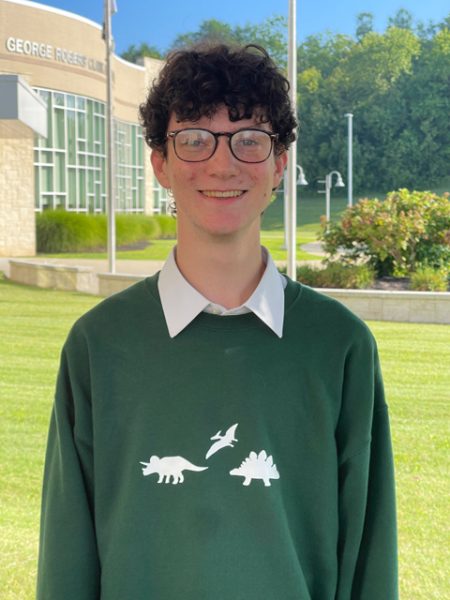 Zach Ross, Features Editor
Once upon a time, a baby was introduced into the world. Fast forward 17 years, and you may find that this baby has grown into being a very talented, amazing, and awesome Features Editor. That baby grew...