GRC gives students a new opportunity to challenge themselves with Esports
GRC has formed an Esports team for the first time ever, offering state-sanctioned video games that students across the nation get to participate in as part of their school team.
After a competitive fall season, GRC's Esports team has begun its spring preseason. The regular season extends from February through April.
The team fell in the playoffs last fall but finished ranked 26th out 68 teams in the region.
"Our team started from scratch and was built as we began competing," says Coach Kevin Andrews. "Without a doubt this is a team full of rock stars."
The team's seven members practice three times a week and compete on Thursdays.
"We currently play Rocket League which consists of players being represented by cars that are playing soccer," says Andrews. "The game is very competitive and requires a lot of skill.  Teamwork is a must if the team is to be successful.  Teams also have to adapt on the fly depending on the team we are playing."
Andrews says the teams is looking to expand. "We hope to add additional games such as Smash Brothers, League of Legends and a few other titles as our team and interest grows," he says. "We are required to have a certain number of players for each team to compete.  This means that we have to focus on one game title at a time to ensure we can play."
Esports involves "less of a physical battle, and more of a mental battle," says team captain Maddox Hughbanks.
Mr. Andrews adds, "It's mentally competitive. You still have to work as a team and practice as a team." 
When playing Esports you don't have to travel to other schools outside of nationals. Now, every game is at home and for the team.
The team continues to look for more players so if you're interested, see Mr. Andrews. Jerseys are coming this spring.
His interest in gaming started at a young age and he wanted to give students here a chance to excel in non-traditional competitions.
"I want to make clear that Esports is more than just getting together and playing games," he explains. "The best players get an opportunity to receive scholarships to colleges. Esports provides an alternative avenue for students to receive a high education, where that opportunity may not have existed before. It is very competitive so it takes a lot of practice and work. If anyone wants to try it out, they can come and see me."
Mr. Andrew sees a lot of hard work and talent in the team he has put together.
"It is my vision that our team will carry on Cardinal tradition and consistently become a championship team," he says. "Winning teams are built and that is what I believe we are doing here."
View Comments (1)
About the Contributor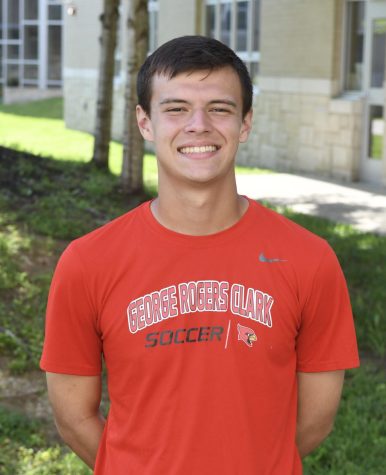 Owen Rainey, Multimedia Staff
Owen prefers Don Señor because he enjoys their food more, and it's high quality. His movie to live in would be "Ready Player One" because there's...