Books that will 'leaf' you speechless
As the weather grows colder and the leaves start to change, getting cozy with a book is always a reliable way to escape the elements. Stories of old and new come together into this epic list of timeless books, including tales from various genres, authors, and time periods.           
The Secret History by Donna Tartt
The Secret History follows a group of six university students before and after the horrible murder of one of their friends, Bunny Corcoran. In the perspective of Richard Papen, this story sequentially follows the life of the friends before and after Bunny's untimely death in an almost detective-like story. This book was originally published in 1992 but still seems to be a favorite especially amongst BookTokers. 
The Crucible by Arthur Miller
This classic play is based on the Salem witch trials in 1692, in which a village gets involved in a witch hunt. As more and more people are accused of witchcraft, the story just gets better and better. Originally published in 1953, The Crucible proves to be a classic spooky tale to this day.
Dracula by Bram Stoker
Another classic, this story follows an English lawyer as he travels to Count Dracula's estate in Transylvania. The villagers, however, warn the lawyer about Dracula being a vampire, something he later learns to be true. This book was originally published in 1897 and is still a beloved tale, especially popular during the autumnal season.
Fairy Tale by Stephen King
King's newest novel, Fairy Tale follows high-schooler Charlie Reade. Once Charlie meets reclusive Mr. Bowditch and his dog Radar, Charlie discovers secrets in the shed behind Mr. Bowditch's house that expands beyond his wildest imaginings. Published in 2022, this fantasy thriller is the perfect addition to your fall reading list.
Murder on the Orient Express by Agatha Christie
Following private detective Hercule Poirot, a telegram urges the retired policeman to rush back to London. Aboard a full train, one man turns up dead, punctured by numerous stab wounds. As Poirot investigates through many twists and turns of fate, the Mother of Mystery fails to disappoint in this classic murder tale. First published in 1934, Agatha Christie still holds her title as one of the best mystery writers of all time.
It Ends With Us by Colleen Hoover
In anticipation for the release of It Starts With Us on October 18, fans of romance should definitely read this heartbreaking story. Life after college proves to be interesting for Lily, especially when she falls in love with Ryle. Despite this newfound relationship, however, Lily's first love, Atlas, seemingly comes back into the picture. In the constant tug of war between love and pain, this story is sure to tug on your heartstrings. Published in 2016, the sequel is one of the most anticipated releases of the year. 
The Great Alone by Kristin Hannah
The story of the modern American pioneer, Ernt Allbright returns home from Vietnam completely different from how he left. He impulsively moves his family to Alaska, where he believes the solitude will help his recovery, but the area is all but fulfilling. The dwindling resources and light leaves the Allbrights on a struggle to regain control alongside the resilient people in Alaska. Originally published in 2018, this is a tale of strength, being resilient even in the face of the unknown.
Killers of a Certain Age by Deanna Raybourn
Four trained assassins are on the brink of retirement as they head out on an all-expense paid cruise. As another hitman attempts to take them down, they are forced to return to their roots. Forced to flee their cruise, the four are plunged into the mystery of their own death. Jumping between the 1970s and present day, Killers of a Certain Age keep you on the edge of your seat. Published in 2022, this inventive mystery book is a thrilling addition to your fall reading list.
Thistlefoot by GennaRose Nethercott
This partial ghost story turns the paranormal onto its head, teaching readers about the dangers of the past. As sibling duo Isaac and Bellatine gain possession of Thistlefoot,  a mystical house that walks around on chicken legs, they learn secrets of their past. As descendants of a sinister Russian witch, they must defeat the Longshadow Man in order to keep their magical house. Published in 2022, GennaRose Nethercott puts a poetic twist on this fantasy tale, intriguing leaders from the first sentence. 
Little Women by Louisa May Alcott
Louisa May Alcott enthralls readers of young and old with this timeless writing, displaying true acts of family, love, despair, and resilience. The story follows an ambitious Jo March as she navigates her independence as a woman in the 19th century. Debatably one of the best pieces of literature ever to be written, Louisa May Alcott tugs on the heartstrings of all her readers. Originally published in 1868, the March sisters' persistence is still an inspiration to readers around the globe.
With this list, you are sure to fall in love with reading this autumn!
Leave a Comment
About the Contributor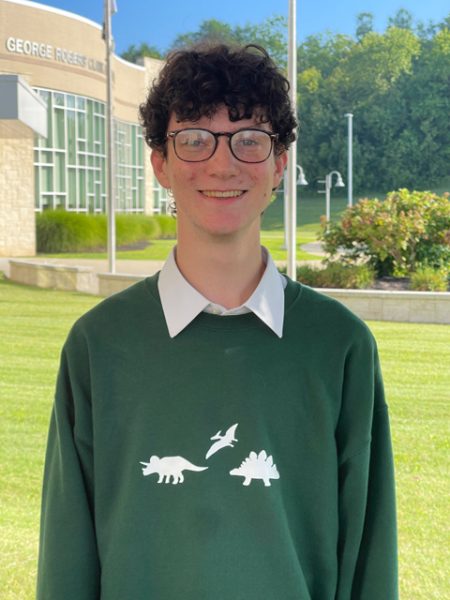 Zach Ross, Features Editor
Once upon a time, a baby was introduced into the world. Fast forward 17 years, and you may find that this baby has grown into being a very talented, amazing, and awesome Features Editor. That baby grew...