Chords for Clark celebrates talent, raises money for choral program
Eighteen Cardinal Singers, 30 Kentuckians Choir members, and a stage at Leeds Center of the Arts can only equal an amazing performance worth your time.  
Chords for Clark is a fundraising event run by GRC's Cardinal Singers and Lexington's Kentuckians Chorus, both directed by Kristofer Olson.
The event will be held Friday at 7:30 p.m. at Leeds Center of the Arts in downtown Winchester. The two groups will perform many different pieces that include solos, an a capella number, some comedy acts, and of course the two choirs combining together for certain pieces.
"Barbershop is a style of four-part a cappella music that is a lot of fun to sing," says choral director Kris Olson, who also directs the Kentuckians barbershop chorus. "Barbershop harmony has become a really important part of my life, so it's really special for me to combine that ensemble with the kids at GRC."
Olson gives us more information on GRC's Cardinal Singers, the headlining group.   
"They are our school's auditioned SATB (Soprano, alto, Tenor, and Bass, interval level at which they sing) choir." Explains Olson. "We do a lot of different kinds of repertoire: Classical, spirituals, folk, world music, barbershop, and more.  It's a wonderful, talented, musically-driven group of kids, and we're quite active throughout the year."
This fundraiser is very important to the Cardinal Singers and to the growth of the choir at school. 
"Chords for Clark is one of the most important fundraisers we do for the choirs," says Cardinal Singer Mallory Jones. "We use the money for things like transportation, uniforms, accompanists, sheet music, and other things that we need to perform."
Junior Zach Ross is extremely excited for this event and the impact that it will have on the Chorus.
"This is our first chance to show the community who we are as a choir and that's exciting," he says. "This event is our biggest fundraiser and it'll be a good bonding experience for our choir as it teaches us how to act in a professional setting as we perform with another choir."
The Cardinal Singers use all of their time in class preparing for the event, working even out of school.
"We have over 15 hours of practice working on our repertoire, so I believe that we will be very well prepared for the event," says Zach. "We even work out of class individually, to make sure we are prepared to work hard as a group."
Despite having a limited time to practice, the Cardinal Singers are working very hard to make sure this event is one to never forget.
"We hit the ground running on Day One introducing repertoire," says Olson. "The concert is one month into the school year, which is quite early to have a concert, but it gives us a good goal to start the year.  I hope we can pack the Leeds Center and show a lot of people how hard we've worked."
Leave a Comment
About the Contributor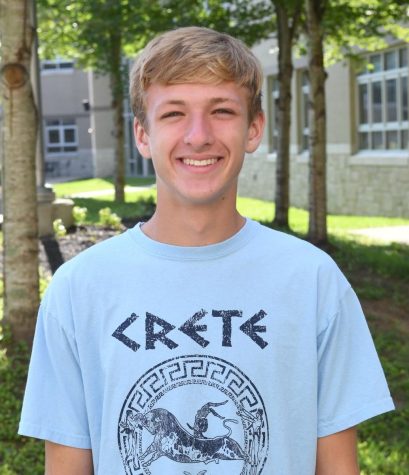 Joby Mitmesser, Multimedia Staff
Joby would choose Don Señor, because the food is more filling, also they play movies while you eat (Spider-Man, San Andres) He would live in "Avengers...