Kris Olson: A man of many talents
Inspiring. Amiable. Remarkable.
Students used these words to describe a teacher at GRC we all know and love.
He is an excellent choir director, and he is a musical mastermind. A man of many talents, if you will. And by many, I mean a million, including anything from songwriting to jeopardy.
During the seven years Mr. Olson has been at GRC, he has made the choir program his own, directed the music and pit in countless school musicals, and somehow still has time to lead an a cappella men's group.
He also taught his dog how to sing along with him. What can't this man do?
Mr. Olson's love of music began at an early age with songwriting and guitar. He was and still is an avid musician and songwriter.
Balancing the lyrics and melodies is a task that is very complicated yet extremely important. According to Mr. Olson, this is what makes or breaks a song.
"What I listen to first, even before the lyrics, is the music, whether chord progressions or melodies," says Mr. Olson, "The best songs are when
the songs or lyrics emerge together as if they were meant to be."
He has written some of his favorites, including songs like Grey Dog, which he says is a crowd favorite among his students.
"You have to play your greatest hits on tour, after all."
Another one of his favorites is A Song for Two, an R&B, Ray Charles-inspired piece he wrote for a friend's senior recital.
"The effort I put into the lyrics is something I worked really hard on, and I got to see the reward," says Olson. "For that reason, I am most proud of that song."
Music has had a powerful impact on Mr. Olson's life in many ways, and he believes that it reminds us that we are human.
"Music is a part of our DNA," explains Mr. Olson. "You don't have to pursue it as a career to find joy out of it."
Even though his love of music began early, his career future was not in sight until he attended college.
As a Communication major at Transylvania University, he couldn't fight his love of music.
"It occurred to me what a powerful thing music had been in my life. It has given me a lot of peace of mind, purpose, and great friends."
So, communications major turned into music and guitar performance, which led to a choral education degree from the University of Kentucky.
His love for barbershop could be a part of his DNA. He grew up attending rehearsals for a barbershop ensemble his dad was in, the Kentuckians Chorus.
He enjoyed the wonderful music and the kindness and good nature of the members. Flash forward to today, and he is now the ensemble director.
GRC student Drew Kearney is a member of this men's a cappella group. Drew says that the bond Mr. Olson creates in his groups is unlike any other.
"He lets you know that you truly matter to the chorus, and you feel like family," he says. "It wouldn't be the same without him."
On top of all of this, he is the musical director for the school musicals here at GRC.
While GRC's production of Music Man and Little Shop of Horrors were his favorites, what he loves most about getting this opportunity is to bring Broadway to students. He enjoys working with students who also love musical theater as much as he does.
"I love helping provide opportunities for things a lot of outsiders might not expect and showing that Broadway is for everyone, no matter who you are."
Mr. Olson has had immense success in all avenues of music, but what he is most known for is his passion for the students.
Gideon Wilson, a senior, has Mr. Olson as his choir and AP Music theory teacher. He believes that Mr. Olson's classes are enjoyable because he puts his all into every lesson.
"Whether it be him going in depth on specific concepts displaying his genuine interest in the subject matter to him cracking some top-notch puns, his class feels very relatable and welcoming," Gideon explains.
He has also become a role model in Gideon's life because of his compassion for his students in all areas, whether academics, music, or their personal life.
"He promotes the use of music," Gideon continues, "to not only be a form of artistic expression or entertainment but as a way to heal and save lives."
What people remember most about you is not your accomplishments and rewards but the way you care for others.
Mr. Olson has had a successful seven years at GRC, which can be contributed to his compassion and love for students.
And teaching your dog how to sing is pretty neat, too.
View Comments (1)
About the Contributor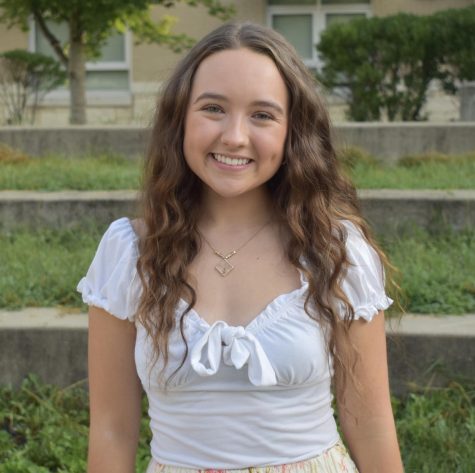 Ella Cooper, Arts & Entertainment Editor
Ella is most afraid of opossums. She thinks Whales are better than Goldfish because they have more flavor and they are just superior. If she were a type...