From GRC Class of 2022 to a University Class of 2026
In less than four months the Class of 2022 will be walking across the stage to receive their diploma. After that, those who are going to college only have two short months before they begin their higher education. 
With the realization that the 2021-2022 school year is coming to a close, many seniors may feel overwhelmed about the decisions and deadlines looming over them.
GRC's senior counselor Jennifer Mink hopes to alleviate the stress of preparing for college. 
In order to prepare for college, it is essential to complete the following steps as soon as possible. "If you are interested in going to college make sure you have applied, and the application has already been accepted," said Mink. "It is also important that transcripts have been sent."
To send transcripts, students can request them through Parchment or SENDedu. Final transcripts though will not be sent digitally and have to be mailed after graduation.
"When we do graduation practice we will give you a slip of paper that asks where you are going and where you need your final transcripts sent," said Mink. Final transcripts will be mailed the first week school is out.
Dual credit students also need to be requesting transcripts from the colleges they took classes from in order to get the college credit. The only exception to this would be if a student took a class from the same college they will be attending after high school. 
"One of the common misconceptions is although your dual credit classes are on your high school transcripts, you still have to request those transcripts from the colleges you took classes from," said Mink.
Dual credit students should also be checking to see if their credits will transfer to the colleges they are considering. Students can do this by using an equivalency calculator that can be found on most college websites. This calculator will tell you what the credits you earned while in high school would be equivalent to at the college you are attending. Students could also contact admissions in order to check if their credits will transfer. 
Most colleges will offer a freshman orientation day where students can work out their classes for the upcoming year. Students can also set up an appointment with their college advisor where they can be guided through what credits would transfer and be enrolled in the appropriate classes. 
As seniors look forward to graduation day, it can be easy to be swept up in the excitement and forget about the grades. "Students need to be finishing out with their grades making sure they are as high as they can be for GPA purposes," said Mink.
Lots of students struggle between choosing colleges so a piece of advice would be to make sure the program you are interested in is offered. "If you are debating between two different majors, make sure the colleges you are interested in have both of them,"said Mink. "If you go there and change your mind on your major you will know that you have your back up and wouldn't have to do the battle of transferring credits or moving schools." 
The financial aspect of college should also be considered when choosing a college. "A huge deciding factor should be the amount of financial assistance you will receive from a college," said Mink. "You want to try to get out of college with a degree and the least amount of debt as possible.
Although most students know whether they will be attending college at this point in the year, the option is always available. In order to get caught up, students should be applying to colleges and requesting transcripts because colleges cannot process applications until that is done. 
"It is never too late to decide you want to go to college," said Mink "Even if you decide during the summer that you want to go, most of the application deadlines will be extended." 
To stay up to date on all senior related information like scholarship opportunities, graduation practice dates, and more, students should be checking up on the senior website and the Class of 2022 Google Classroom. 
Leave a Comment
About the Contributor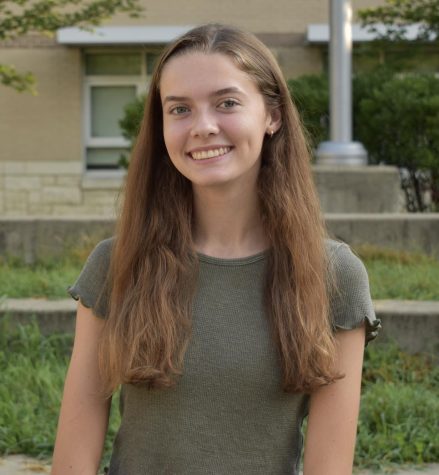 Campbell Taylor, Features Editor
Campbell is most afraid of squirrels. She thinks Extra Cheddar Goldfish taste better than Whales. If she were a type of shoe, she would be Nike tennis...