Dancing to battle cancer
GRC Dance Red event set for March 25th
Reviving an inspiring tradition, GRC's Pep Club is hosting our very own Dance Red to raise funds for child pediatric cancer.
The dance will be held from 4:30-10 p.m., Friday, March 25, in the auxiliary gym. 
"I'm most excited to see how much money we can raise for the benefit of kids going through such a difficult time in their lives," says Hunter Cooper, a former cancer survivor and junior at GRC.
The funds raised will be sent to Dance Blue at University of Kentucky. Over the years, UK's Dance Blue has raised more than $18 million.
Funding from Dance Blue has created a new pediatric cancer wing at UK hospital.  This wing is expansively larger than UK's original pediatric cancer wing, providing those battling cancer with more comfort and room for their family and visitors. Some of GRC's own students have used these rooms when receiving chemo and awaiting medical testing.  
"It means a lot to me that GRC is joining in to help battle cancer," Cooper said.  "During my battle with the disease, I got to witness first hand how much Dance Blue has helped to provide proper facilities and equipment for the care of young children fighting for their lives. The fact that my high school will be taking part in something so special and important to me means so much."
Getting involved in this event may include donating snacks and food, working the mini-fundraisers within the dance, and assisting in hosting the event.
"I think the fact that many of our own students have benefited from this charity will be the power behind students wanting to participate and and wanting to volunteer," says Pep Club sponsor Amy Hynes.  To volunteer, contact Ms. Hynes via email or in Room 527.
The main event will be no typical school dance.  Students will be expected to stay the full duration of the event.  "Six hours. No sitting. No sleeping," says Ms. Hynes. "If children can battle cancer, we can battle six hours."
To keep students on their feet, "every hour on the hour, students from the University of Kentucky run a line dance… beyond that, there is a different activity every hour," explains Ms. Hynes.  Adding to the fun, each grade will be dressed in a chosen theme to be announced and a number of fundraising booths will be set up.
Dance Red T-shirts will be provided to those who pay the $15 and submit the permission slip to Room 527 by Tuesday, March 8.  Although tickets can be purchased at the door, t-shirts will not be provided. Pizza, snack and prizes also will be provided.
These donations will do miles for those in need of treatment and comfort.  "Because it's impacting peers," Ms. Hynes said, "we are hoping to raise a couple thousand dollars."
Dance Red will provide students the opportunity to bond with friends and armor up for the battle on pediatric cancer.  
Leave a Comment
About the Contributor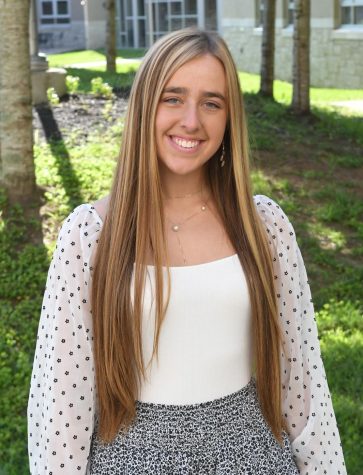 Tristen Culton, Multimedia Staff
Tristen likes Puerta Grande because the environment and setting is more hype. She would live in "Cinderella" to have a try at the glass slipper. The...